Forget sweater weather. It's soup weather, y'all.
I meant to post this recipe ages ago, as a follow-up to my treatise on homemade Chicken Broth. But life happened. Better late than never.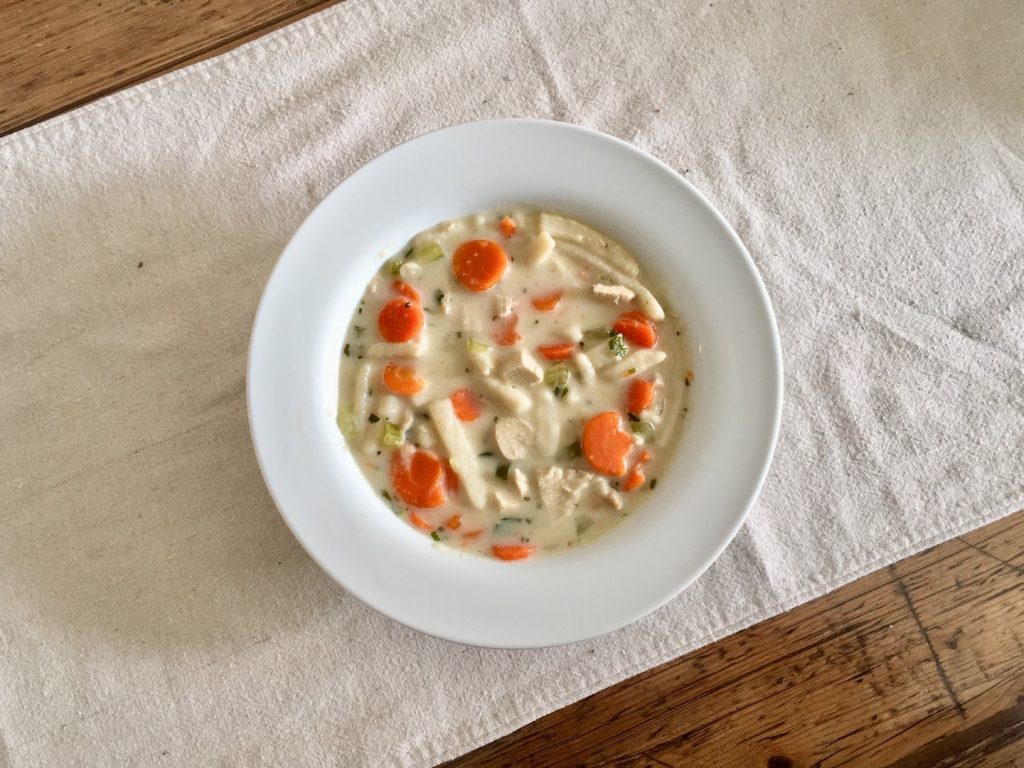 After a long summer of not eating soup, I love when Fall finally arrives and I have an excuse to brew the biggest batch of soup I can fit in one pot. There's something magical in a steaming bowl of savory, soupy deliciousness on a chilly day. Canned soups can't touch this, by the way. Only homemade soup is magical.
Ugly cold? Chicken Noodle Soup is just what the doctor ordered.
Heater broken? Chicken Noodle Soup will warm you right up.
Too tired to cook? Chicken Noodle Soup, right from the freezer.
See what I mean? It's magical. Fix a batch of homemade Chicken Noodle Soup, and try some magic for yourself.
Chicken Noodle Soup
2018-10-22 15:24:14
Serves 12
Ingredients
1 whole cooked chicken, skinned, deboned and chopped
7 quarts homemade chicken broth
4 cups carrots, peeled and sliced into rounds
4 cups celery, diced
1 24-oz. package Reams Homestyle Egg Noodles (frozen)
3 tablespoons fresh parsley, chopped
2 tablespoons fresh rosemary leaves, chopped
1 tablespoon fresh thyme leaves
1 cup heavy cream
Kosher Salt
Instructions
For best results, start by making your own chicken broth (recipe here).
Add chicken broth to a large dutch oven or stock pot. Cover and bring to a boil over medium-high heat.
Add carrots and celery to chicken broth. Cover and cook for 10 minutes.
Stir in frozen noodles. Cook until noodles are tender, about 20 minutes.
Reduce heat to a low simmer. Stir in chopped chicken, parsley, rosemary, thyme, and heavy cream.
Simmer for 5 minutes until heated through. Season to taste with kosher salt.
Substitutions
Chicken - I always use the chicken left from making Chicken Broth. If you aren't making your own broth, you can use a skinned, deboned rotisserie chicken, or any kind of chopped cooked chicken.
Broth - If you don't have homemade broth available, use store-bought broth.
Noodles - If you can't find Reams Homestyle Egg Noodles (in the freezer section) where you live, you might try making your own egg noodles at home. Alternatively, use a bag of dried egg noodles from the pasta aisle.
Raising Camelot https://raisingcamelot.com/
Happy fall, y'all!