Confession time: I am a food snob. I don't do whipped topping, baking mix, margarine, cake mixes, canned frosting, canned cream soups, canned dough, canned "parmasean," or the like. I understand that so-called convenience foods are, well, convenient. But that doesn't make them right.
It doesn't make them good, either. There is just no substitute for real, fresh whipped cream — no matter what the blue tub says. Canned biscuits and pancakes made from a baking mix may be faster, but they don't hold a candle to their homemade counterparts.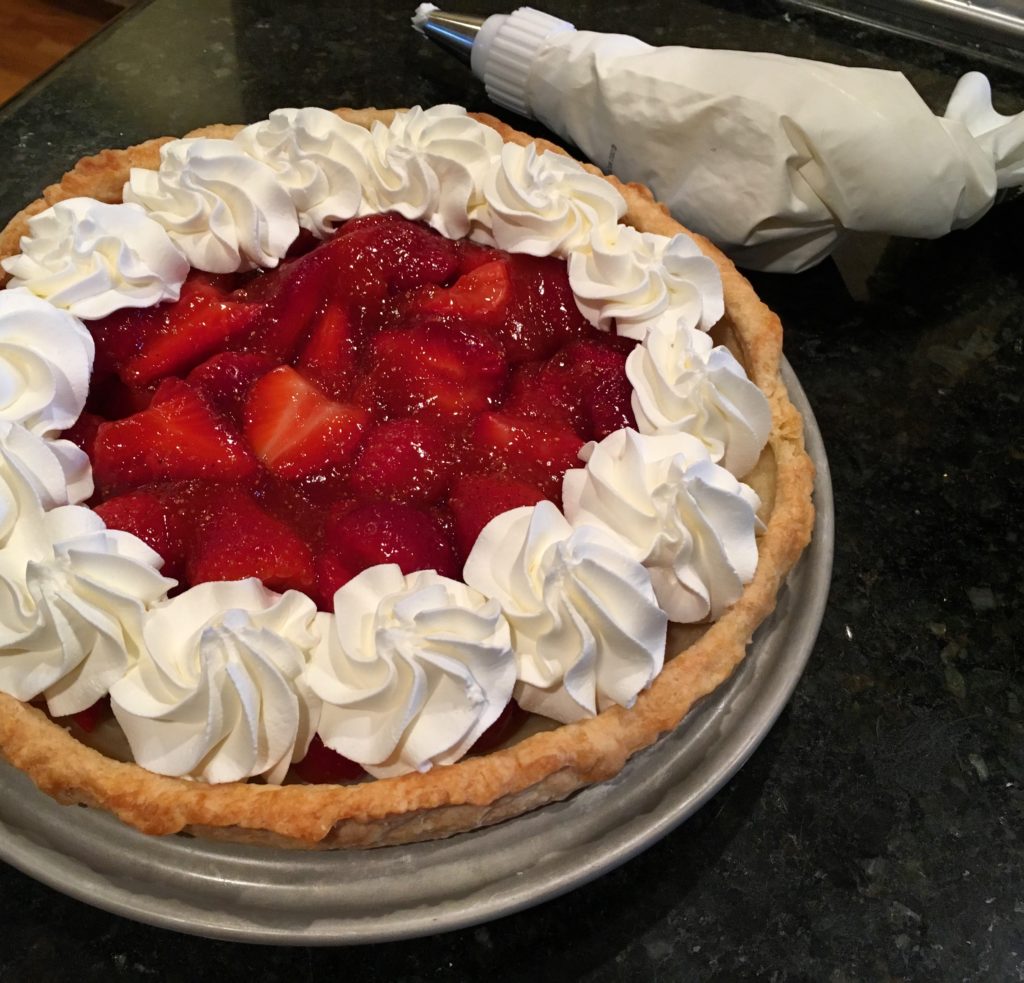 Call me crazy, but a Lemon Cake should contain actual lemons — not artificial "citric flavoring" and Yellow 5. When I see fresh, juicy strawberries adulterated with fake strawberry flavoring for a (Fake) Strawberry Pie, I cringe.
And then I console myself with making a real, honest-to-goodness Fresh Strawberry Pie.
The Crust
For the crust, I use a recipe from The Food Lab's J. Kenji Lopez-Alt. You'll need a food processor, but equipment notwithstanding, this is not only the easiest pie crust recipe I've ever tried, it's also the best. ("The best, Jerry. The best.") No, really. Delicious flaky layers (see above) that absolutely melt in your mouth.
I do make one slight modification: the recipe calls for 1 tablespoon of sugar. My pie fillings tend to be quite sweet on their own, so a balanced salty-sweet crust is more to my taste. To accomplish this, I decrease the amount of sweetening to 2 teaspoons of sugar.
(In other news, I've got a post in the works about blind baking a pie shell. I've been experimenting with methods to make it easier, with better results — and, by Jove, I think I've got it. Maybe. More on that soon…)
Find the recipe for Easy Pie Crust here at Serious Eats.
The Glaze
Google "strawberry pie no jello" and you'll find lots of options; my personal favorite is from The Brown Eyed Baker. Instead of flavoring the glaze with the artificial chemicals found in strawberry gelatin, she uses a strawberry puree, cooked with unflavored Sure-Jell and cornstarch. Sublime.
The recipe can be found here.
The Berries
One of the hazards of Fresh Strawberry Pie is that your berries begin to macerate as soon as you mix them with sugar (in this case, the glaze) — which means you could have a soupy mess on your hands if it sits too long. How you treat your berries can help keep them in peak condition a little longer.
Some hints:
Choose smaller berries, when possible. Larger berries will need to be cut into smaller pieces — which makes extra surface area from which they can lose liquid.
After the berries have been rinsed and hulled, pat each one dry with a paper towel to avoid introducing any excess water into your pie. It really doesn't take long.
Make the pie crust and the glaze in advance, so you can assemble your pie at the last possible moment (ideally, no more than 2 hours before serving).
Hopefully, the above tips will help the berries last for the "life" of your pie — which, let's be honest, isn't going to be very long. It's Strawberry Pie, after all!
The Topping
Fresh, homemade, sweetened whipping cream is the only suitable topping for a pie such as this. Cream-in-a-can just won't do. And if you mention "Cool Whip" to me, I might have to hurt you.
My go-to recipe for whipped cream comes from Alton Brown. It's a simple recipe, but somehow not simple enough for me to commit to memory. If I'm smart, I remember to Google "alton brown whipped cream" and use the correct proportions. If I'm not, I wing it and end up with cream that's not sweet enough. Trust Alton. He knows.
Alton Brown's recipe for Whipped Cream is here. (I use one-and-a-half times the recipe to make enough whipped cream for this pie.)
Once you've whipped the cream sufficiently, load it into a large piping bag fitted with a large star tip and pipe stars or rosettes over the top. (For a more rustic look — or just to avoid washing a piping bag — pile the whipped cream on the pie and smooth with an offset spatula.) Chill for 30 minutes or so before serving.
The hardest part is not eating it all in one sitting. And not a whiff of Red 40 in sight.
Eat up, kids.
Save
Save
Save
Save
Save
Save
Save
Save
Save
Save
Save