As a child, I didn't like Mexican food.
I'm truly puzzled by that now. I had an amazing childhood, and I don't remember any early trauma that would explain an aversion to Mexican food.
Now that I'm all growed up, I crave Mexican food — at least of the meaty-and-cheesy-and-crunchy variety. (I still don't like guacamole, or seven-layer dip, but I guess we're all broken in some way.)
Our Mexican food staple of choice is tacos. Beef tacos. Pork tacos. Chicken tacos. Bring 'em on.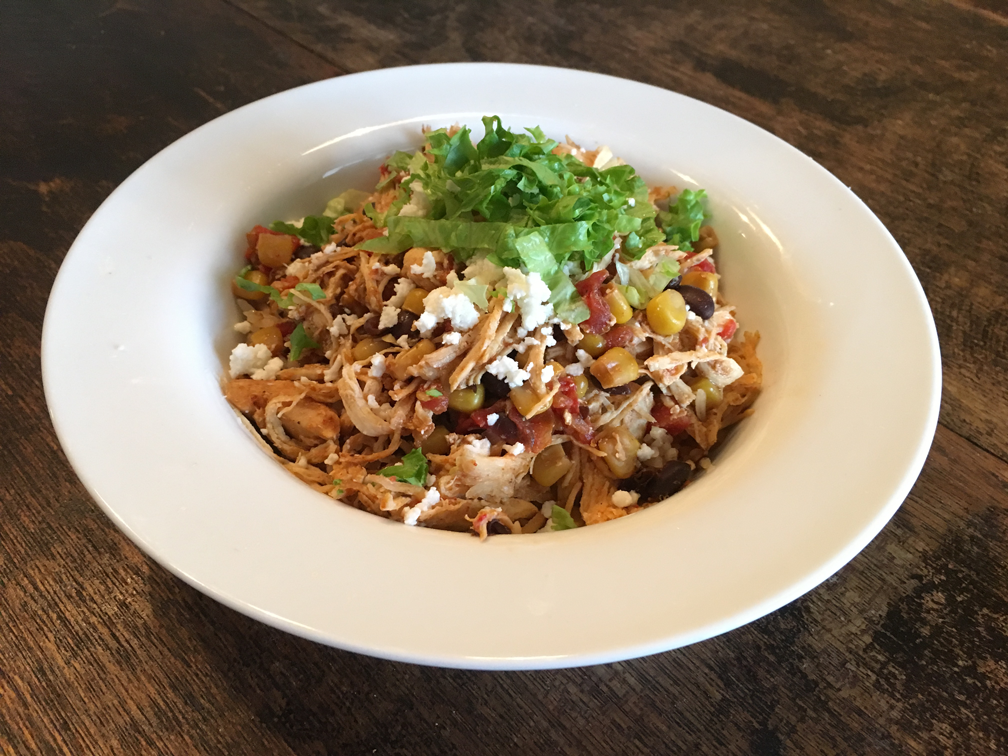 The recipe I'm sharing here is one of my favorites for two reasons:
Tacos. (Duh.)
It works with frozen chicken.
(Insert trumpet fanfare.)
One of the best reasons to own and use an Instant Pot is procrastination. I don't often think about dinner until I start getting hungry myself — which means either at 5:00 AM or 7:00 PM. Even I will admit that 7:00 PM is kinda late to begin meal planning. By the time I can concoct and serve dinner, I may or may not have snacked my way into a new dress size.
Ahem.
But my Instant Pot (or any pressure cooker, I suppose) gives me more wiggle room. Instead of waiting to thaw chicken breasts into usefulness, I can toss in a few frozen ones and pretend I was planning exactly that all along. Or I can use fresh ones and reduce the cook time a little.
Either way, I don't have to plan ahead by 8 or 9 hours. Honestly, I'm better at planning out the next decade than the next eight hours…
I usually serve this chicken tucked into flour tortillas for the kids. For myself, I prefer it over a bowl of jasmine rice, with a sprinkle of queso fresco, and some fresh lettuce for a little crunch. (I've also included the rice recipe below.)
Instant Pot Chicken Tacos
2018-04-17 17:59:57
Serves 6
Easy chicken tacos you can make with fresh or frozen chicken breasts
Ingredients
2 tablespoons taco seasoning
1/2 cup water
4 chicken breasts, trimmed (fresh or frozen)
1 1/2 teaspoon kosher salt
1 10 oz. can Rotel
1 16 oz. jar black bean and corn salsa
Instructions
Pour the water into the inner pot of your Instant Pot.
Sprinkle the taco seasoning and kosher salt on both sides of each chicken breast.
Place two seasoned chicken breasts in the inner pot, on top of the water.
Pour half of the Rotel and half of the salsa over the top of the chicken breasts. Repeat with the other two seasoned breasts and the remaining Rotel and salsa. DO NOT STIR.
Cover the Instant Pot with the lid and make sure the pressure valve is turned to SEAL.
Cook on Poultry mode for 22 minutes (fresh chicken) to 24 minutes (frozen chicken).
After cooking is complete, allow the Instant Pot to naturally depressurize for 15 minutes.
Release any remaining pressure and remove the lid. Remove the chicken to a large bowl and shred with forks.
Strain the cooking liquid and return any solids to the bowl with the chicken. Pour some of the cooking liquid over the chicken and toss with tongs to combine.
Serve in flour tortillas, or with rice, with lettuce, tomato, and queso fresco to garnish.
Notes
I like to use black bean and corn salsa, but use whatever salsa brand and style you prefer.
Raising Camelot https://raisingcamelot.com/
—
Instant Pot Jasmine Rice
2018-04-17 18:30:17
Serves 8
A great all-purpose rice recipe that can be adapted to serve with any cuisine.
Ingredients
1 tablespoon olive oil
1 medium yellow onion, diced
2 1/2 cups jasmine rice
3 cups chicken broth
1 teaspoon kosher salt
Instructions
With the Instant Pot on the Saute setting, heat olive oil and add diced onion. Cook onion until most of it is a dark brown color. Some charring is okay.
Add rice and stir to distribute. Turn off Saute mode. Sprinkle in kosher salt and stir in chicken broth.
Cover the Instant Pot with the lid; make sure the pressure valve is set to SEAL.
Cook on Manual mode for 4 minutes. After the cooking is complete, allow the Instant Pot to depressurize naturally for 15 minutes.
Release any remaining pressure and remove the lid. Fluff rice with a fork and serve.
VARIATION
Lime-Cilantro Rice: After cooking the rice, stir in the juice and zest of one lime, and a handful of chopped cilantro.
Notes
This recipe works beautifully for Jasmine Rice, but may not do as well with other rice varieties such as Basmati. Consult your Instant Pot recipe guide for recommended cooking times.
Raising Camelot https://raisingcamelot.com/
Happy munching, fellow taco fiends!