Moms like myself need some staple meals in our cooking arsenal. Something fast and easy. Something made from ingredients we always have on hand.
Something our kids will eat without a fight.
Confession: At Chez Prescott, very few meals satisfy this trinity of requirements.
Still further confession: For some years, this dish didn't either.
And then, one day, I ran out of artichokes.
Curious how a little thing like that could suddenly turn my hardened, anti-pasta children into enthusiastic pasta eaters. But it did.
Now they request this dish. And I'm so happy to have satisfied the above requirements, I haven't even tried to sneak the artichokes back in.
Yet.
The best part about this recipe is that you don't need a jar of store-bought sauce to eek out a weeknight pasta.
In my experience, store-bought pasta sauce is a waste of a good jar. Jarred red sauces are cloyingly sweet, and that pre-made alfredo sauce is just… of the Devil's kitchen. You deserve better, my friend.
Luckily, "better" is easy. A few basic ingredients, cooked properly, should send store-bought pasta sauce the way of the molded Jello Salad.
[
Shivers
.]
On that note, a couple of tips.
Make sure to cook your onion until it's a very rich brown. Let the onion caramelize thoroughly and all that flavor will infuse the heavy cream. When the infused cream starts to mingle with the tomatoes and the cheese, magic happens.
If you're cooking for grown-ups — or adventurous kids — go ahead and throw in some pickled artichoke hearts (quartered) with the tomatoes. But use good-quality artichoke hearts — cheap ones tend to be too "woody" for my taste.
And yes, fresh parsley is a necessity. It's 67¢ at the grocery store and five minutes of your life. Time and money well-spent.
Finally — and this is important — if you buy "parmesan" in a can, you're doing it wrong. Pleasepleasepleaseplease throw the can away, drive to Sam's and buy a wedge of good parmigiano-reggiano.
Life is too short to eat fake cheese.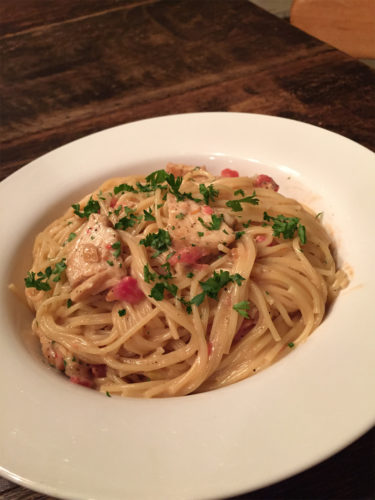 Chicken Pasta with Tomato Cream Sauce
2016-02-01 01:00:30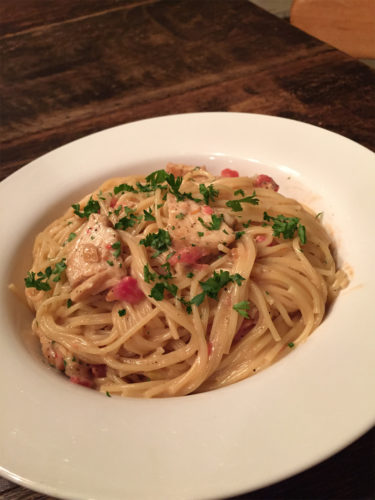 Serves 8
An easy, delicious pasta using cooked chicken and pantry staples.
Ingredients
2 T. butter
2 T. olive oil
1 small yellow onion, minced
3 cloves of garlic, minced
1 cup heavy cream
1 can petite-cut stewed tomatoes
3 cups chopped cooked chicken
1 cup grated parmigiano reggiano
1/4 cup minced parsley (plus more for garnish)
1 lb. angel hair pasta
Salt
Pepper
Prepare the Pasta
In a large stock pot, bring salted water to a rolling boil while you prepare the sauce.
When your pot of water is boiling, add angel hair pasta. Cook for 4 minutes — just until the pasta is "al dente."
Prepare the Tomato Cream Sauce
Melt butter and oil together in a large saute pan.
Add minced onion and cook over medium-high heat for 5-7 minutes, stirring frequently, until a rich brown color is reached. Add garlic and cook 1-2 minutes more.
Stir in heavy cream and reduce heat to low. Heat the cream mixture gently and DO NOT let it boil.
Stir in the stewed tomatoes and the cooked chicken.
Add salt and pepper to taste. (I usually add 1 to 1 1/2 teaspoons of salt and about 1/2 teaspoon of black pepper.)
Stir in parmigiano cheese and parsley into the sauce. Cover and hold over low heat until pasta is ready.
Drain the pasta, reserving some of the pasta water to thin the sauce, if needed (optional).
Add cooked pasta to the sauce and gently toss to combine.
Garnish with chopped parlsey and serve.
Notes
If you're cooking for grown-ups — or adventurous kids — throw in some jarred artichoke hearts (quartered) with the tomatoes.
Raising Camelot https://raisingcamelot.com/
[SIDEBAR: Once I've convinced you to abandon jarred pasta sauce forever, you'll need a new red sauce recipe. I recommend
this one
.]
Happy eating, y'all!