I'm 99.999% positive that I never gave a thought to my thyroid gland until six months ago.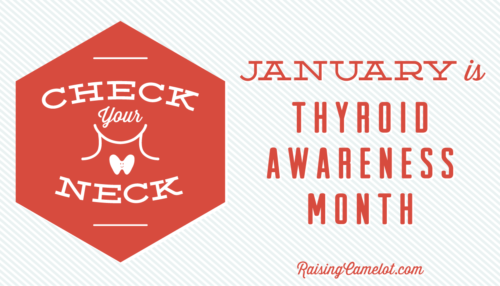 In July 2015, however, my thyroid and I had a rather ugly introduction. I wish I could say we were able to overcome our differences, but the truth is, our relationship went downhill from there.
But even though things failed to work out between me and my thyroid gland, I'm hoping other folks will have better luck. Perhaps with a little time and attention, you can build the healthy, lifelong relationship with your thyroid that has eluded me.
It's Thyroid Awareness Month.
Time to stop ignoring that mysterious, butterfly-shaped gland in your neck. Because if you don't, it just might go away.
—
I'm not usually a crusader. But I'm making an exception this time, for a couple of reasons.
Symptoms of thyroid disease are confusing.
Thyroid hormones affect every cell in your body, so symptoms of thyroid disease vary depending on whether you're suffering from too little thyroid hormone (hypothyroidism) or too much (hyperthyroidism). Which makes it that much more difficult, since the symptoms of one type of thyroid disease are the exact opposite of symptoms for another type. Weight gain or weight loss. Excessive perspiration or sensitivity to cold. Changes in mood, mental acuity, menstruation, your skin, your hair, or even your eyes, are common.
Symptoms are easy to rationalize.
Who isn't tired? Who doesn't get cold or sweaty now and then? Don't we all have fluctuations in our weight? It's tempting to sweep those things under the rug — especially if you're the kind of person who takes care of everyone else's needs first.
It was ridiculously easy to dismiss my symptoms: "I'm a busy, homeschooling mom of three. I don't sleep enough. My diet consists of granola bars, caffeine and half-eaten sandwiches. Of course I'm tired and cranky and fat."
If that sounds familiar, consider this your Official Nudge: Make the time to take care of yourself. Pick up the phone and make it happen.
Thyroid disease is very widespread.
I'm not someone to advertise my bidness to strangers, but these days I can't ride an elevator without meeting another someone with a thyroid disorder. As blind as I'd been to thyroid disease before I was diagnosed, now I know fellow sufferers are everywhere.
Amazingly, one in eight women will develop a thyroid disorder at some point during her lifetime, which means thyroid disease is as common as breast cancer. Breast cancer advocates have done a fantastic job building awareness of that disease — and it has saved countless lives. How many lives could be saved — and improved — if we talked about thyroid disease, too?
Now try on this statistic: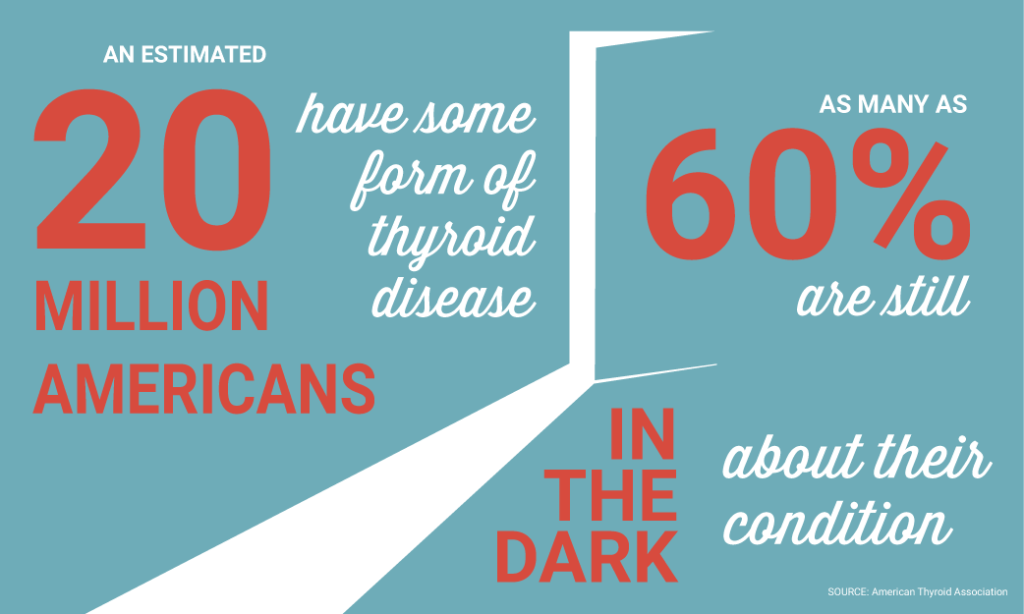 Let me save you the math. That's 12 million people who don't know they have a thyroid disorder. Does this mean the symptoms are so trivial, thyroid disease can't possibly be a big deal?
Well, no. Because —
Thyroid disease could be a sign of thyroid cancer.
In the vast majority of cases, thyroid disease falls somewhere in a range from annoying to debilitating — but it can be the indicator of something deadly. Thyroid cancer is very rare, and most types respond well to treatment — but like all cancers, early detection is key.
Men get thyroid disease — and thyroid cancer — too.
Although women are more likely to suffer from a thyroid disorder, men aren't exempt. Thyroid disease in men can cause all of the symptoms faced by women, plus hair loss, fertility problems, sexual dysfunction, and loss of muscle mass. Men may have greater difficulty in being diagnosed because thyroid disease is seen — even by some doctors — as "a women's disease." And the clincher: Thyroid cancer is disproportionately fatal for men. (Sorry, guys.)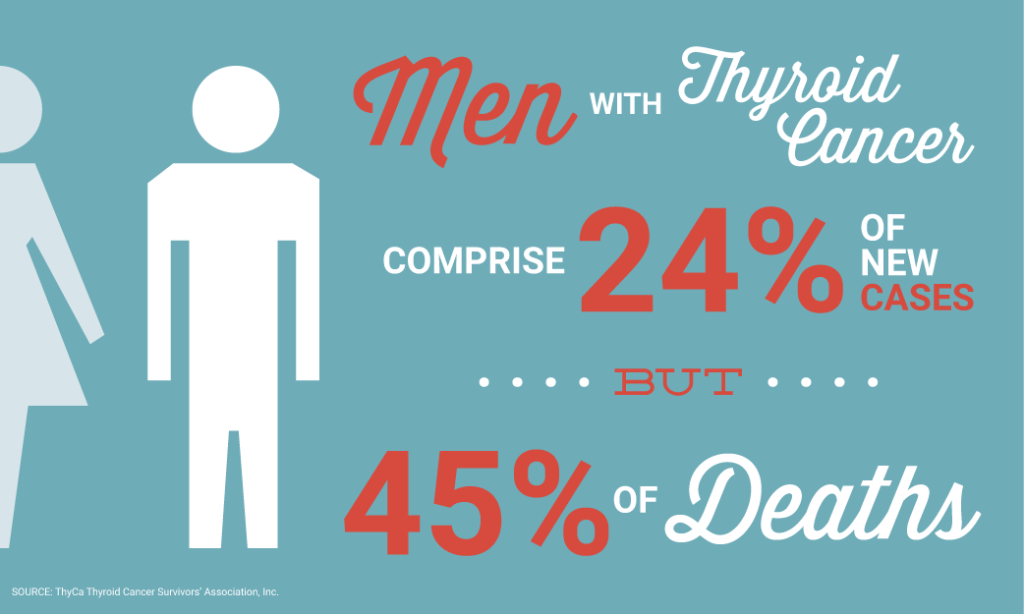 What You Can Do
Thyroid disease is treatable — and, for some, reversible — but only if it's diagnosed. It's pretty simple, really.
Check your neck. Self-checks are easy and painless. Click here to learn how.
See your doctor. Make sure he/she checks the thyroid during your annual physical. If you have symptoms or a family history of thyroid disorders, get a thyroid exam and thorough blood work. If you or your doctor find a lump, make sure you get an ultrasound and/or a biopsy of the nodule(s).
Help spread the word. Remember: 12 million Americans don't even know they have a thyroid disease. Want an easy way to share? Download free Check Your Neck images here and share them on social media.
Check your neck, friends. I wish you a very happy thyroid for many years to come!
Save