In honor of Throwback Thursday, I'm throwing it waaaay back to 1998.
Summer, to be exact.
That was my second summer down on the Gulf Coast of Florida, working and participating in a summer discipleship program, along with dozens of college students from other universities all over the South.
Five girls living in two rooms, sharing one bathroom and one closet is bound to create a certain amount of fireworks, but my first summer in Florida produced, well… a whole lotta drama.
Anyone who tells you we Christians magically love and cherish one another is lying. Like a rug.
When it became clear that the Lord's plan was for me to go back to Florida the following summer, I dreaded returning. Dreaded. Like my parole had been revoked.
But God.
He was gentle with me. As much as 1997 had been a bruiser, 1998 was a restorative. No drama. Just peace. And encouragement. And bearing with one another in love for Christ Jesus' sake.
One of the highlights of Summer '98 was the weekend our little cadre of five girls drove to our group leader's Mississippi hometown to stay with her parents. The Hassells opened up their lovely home for a point-blank blast of Southern hospitality. We ate, slept in, went to flea markets, ate, watched movies, swam, ate, drove around the charming city, ate.
Did I mention we ate?
Mrs. Hassell cooked for us all weekend. Although everything was utterly delicious, two things are lodged in my memory to this day: mouth-watering fresh tomatoes — by which standard every tomato since has been a disappointment — and these baked beans.
(I can't imagine what possessed a college girl to beg this recipe for baked beans, of all things… but I'm so grateful I seized the day. And may it be counted to Mrs. Hassell as righteousness that she shared it with me.)
Mrs. Hassell, you should know when I take these beans anywhere, they get heaps of compliments. Everyone loves them. Thank you for sharing your recipe with me, and for sharing your home with us that weekend a bazillion years ago.
Still grateful,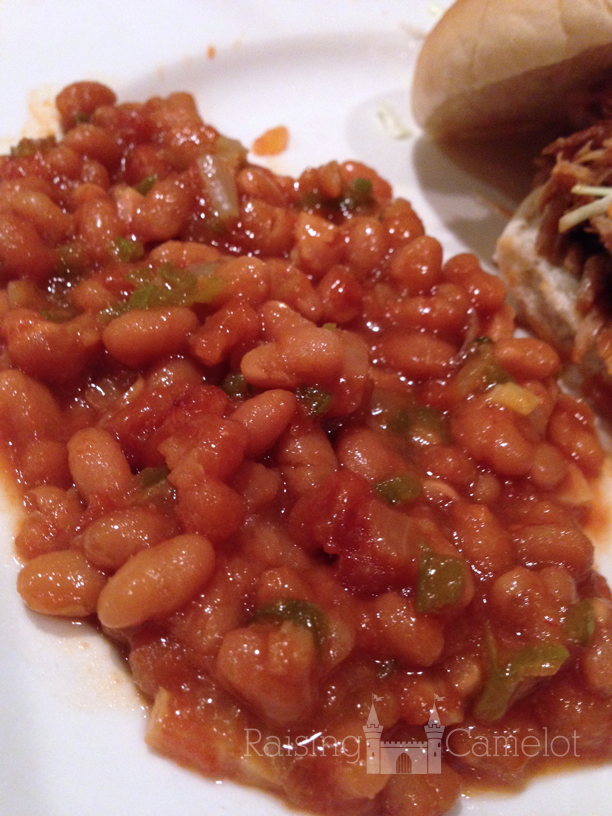 Martha Hassell's Baked Beans
2015-12-30 00:13:52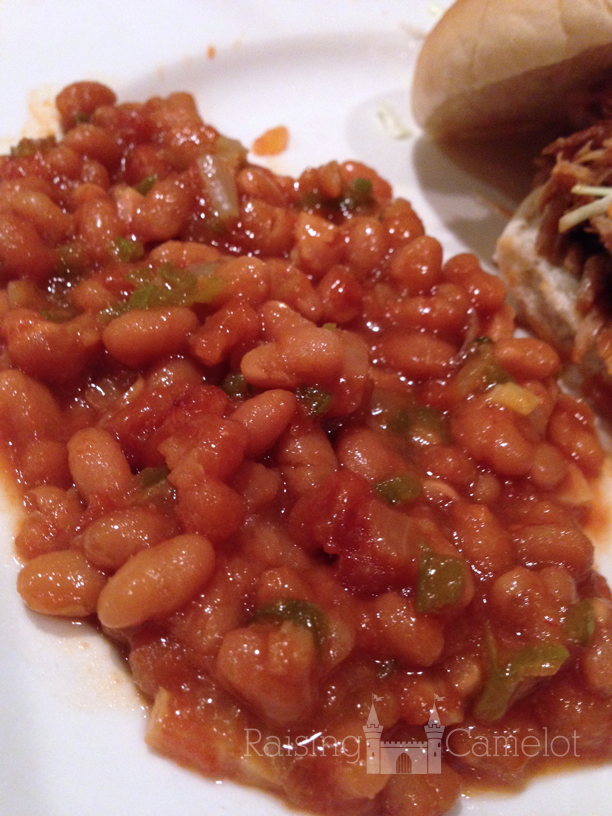 Serves 14
Ingredients
4 (15.5 oz) cans pork and beans
1 small onion, diced
1 green pepper, diced
6 slices bacon, cooked and crumbled
1/2 cup brown sugar (not packed)
1/2 cup ketchup
1/4 cup yellow mustard
1/4 cup vinegar
Instructions
Preheat the oven to 350 degrees.
Combine all ingredients and mix well. Place in a greased baking dish.
Bake uncovered for 1 hour, or longer if time allows.
Notes
In my experience, each brand of pork and beans is sweetened a little differently. A loose 1/2 cup of brown sugar is about right for the brand I usually buy (Showboat), but if I use other brands, it seems a little too sweet or not sweet enough. A little experimentation may be necessary to get your preferred level of sweetening.
Raising Camelot https://raisingcamelot.com/