Families will grow, even as budgets may not. My two boys — who seem to go through growth spurts faster than they do batteries — are not yet eating us out of house and home. And I stress "yet."
But I sense it's coming.
I'm always on the lookout for an economical dinner option. Unfortunately, having inherited a double-dose of food pickiness, there are certain foods (far too many of them, I'm afraid) they disdain. At least my oldest eats greens and vegetables, whereas my middle child… eh, not so much.
A slab of meat is sometimes the only thing between my ravenous sons and starvation — or so they seem to think — so I keep my eyes peeled for a good deal on animal flesh whenever I'm shopping.
Which leads us to: Country-Style Pork Ribs. [Cue the triumphant fanfare.]
I bought almost 8 lbs. for $11.88 — or $1.53 per pound, to be exact. Way cheaper than ground beef.
And then I got scared. How in the blue blazes do I cook these things?
I found some promising recipes for braised pork ribs with root vegetables, but we'd just finished similarly-prepared beef short ribs and I was not a fan. Lots of smother-them-in-BBQ-sauce recipes, too. Meh.
Then I found this at 100 Days of Real Food. The recipe uses pork shoulder, but I decided to gamble and try it with the ribs instead. I also used apple cider vinegar instead of red wine vinegar and nixed the honey altogether.
The result was flavorful, fork-tender pork. Gobs of it. My 7.75 pounds of pork ribs yielded about 4.5 pounds of pulled pork. (Our favorite BBQ joint charges $12/pound for their pulled pork.)
Easy, budget-friendly and delicious. Woo pig sooie, count me in!
Coming tomorrow: the recipe for Martha Hassell's Baked Beans — the perfect complement to Pulled Pork.
Cherrio,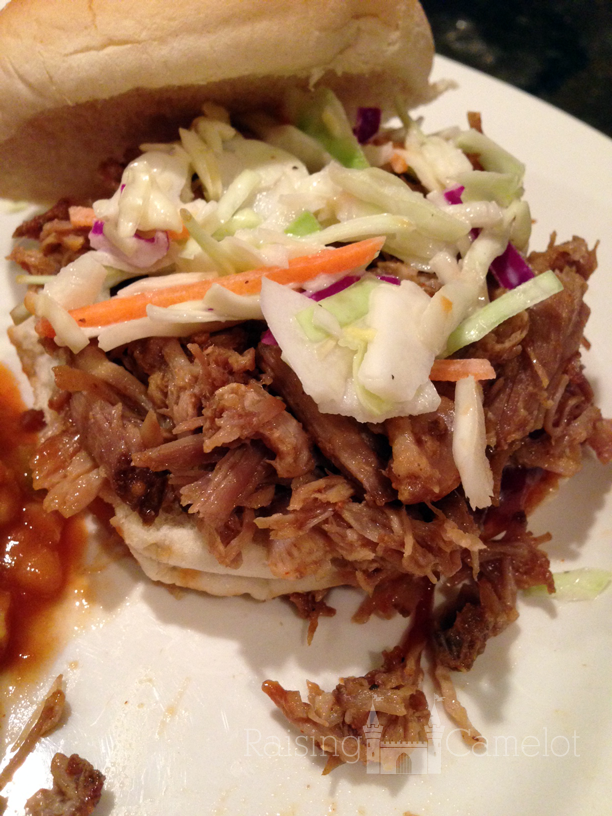 Slow-Cooker Pulled Pork
2015-12-30 00:08:13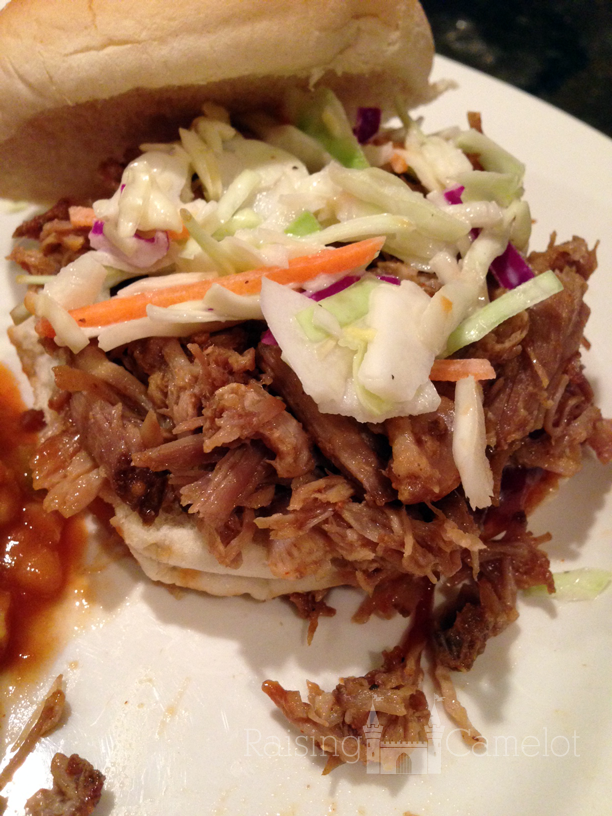 Serves 14
Ingredients
7 lbs country-style pork ribs
1/4 cup paprika
3 tablespoons salt
1 tablespoon pepper
1 1/2 teaspoons cayenne pepper
1 1/2 teaspoons garlic powder
1 teaspoon dried thyme
1/2 cup apple cider vinegar
Instructions
Stir together all the spices until well-combined.
Trim the excess fat from the ribs. Place the ribs into the well of a slow cooker.
Sprinkle the trimmed pork ribs with the spice mixture, turning to coat all sides. Pour apple cider vinegar over the ribs.
Put the lid on your slow cooker and cook on low for 8-10 hours, until the ribs are fork-tender.
Remove the pork and pour the cooking liquid into a fat separator (or skim the fat by hand). Reserve the liquid.
Shred the pork with forks or fingers, removing any bones (if you didn't buy boneless ribs).
Pour some of the reserved liquid over the shredded meat to keep it moist and flavorful. The actual quantity is "to taste," but I used about 1-2 cups of liquid. (You may wish to refrigerate any extra liquid for warming up leftovers later.)
Serve shredded pork on rolls with BBQ sauce and slaw.
Notes
You can use either boneless or bone-in country-style pork ribs. Boneless is slightly more convenient but may be slightly more expensive. Picking the bones from bone-in ribs is not difficult, but you may wish to shred the pork by hand (instead of by fork) to make sure you don't leave any bones behind.
Adapted from 100 Days of Real Food
Raising Camelot https://raisingcamelot.com/