I am not a cookie loyalist. I love homemade chocolate chip cookies, of course. But I also love peanut butter cookies. And oatmeal cookies. And sugar cookies. And decorated cookies. And, lest we forget, Chocolate Chip Brownie Pillows.
All varieties of homemade cookie are equally welcome on my plate. (Except oatmeal raisin. That poseur wannabe can keep on walkin'.)
But at Christmas, I reallyreallyreally especially adore gingersnaps. Not only are gingersnaps the perfect spicy-sweet morsel, they are super easy to make. Gingersnaps are also ideal for giving away in your Christmas packages because they stack like a dream — and they give off a scrumptious, spicy-sweet eau de cookie like they're born to it.
My gingersnap recipe comes from Oil & Vinegar, a cookbook by the Junior League of Tulsa. Oil & Vinegar is a phenomenal cookbook — not just because the recipes are stellar, but because the book is packed with historical facts about Tulsa. If you're a Tulsa transplant (like yours truly), it's a wonderful way to get to know the city's history.
And, of course, to eat well. Win-win.
Anyway, it's Christmas. Make some gingersnaps. You're welcome.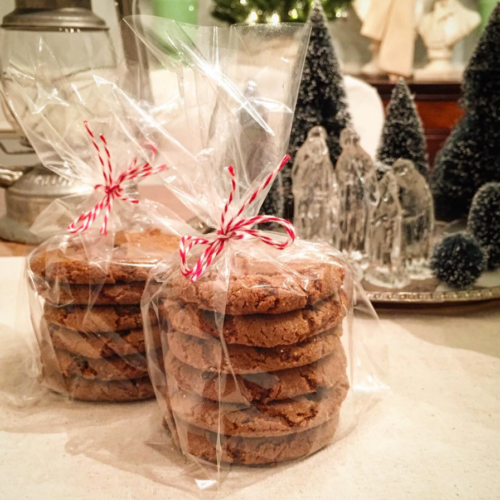 Cookie Jar Gingersnaps
2016-12-12 13:21:16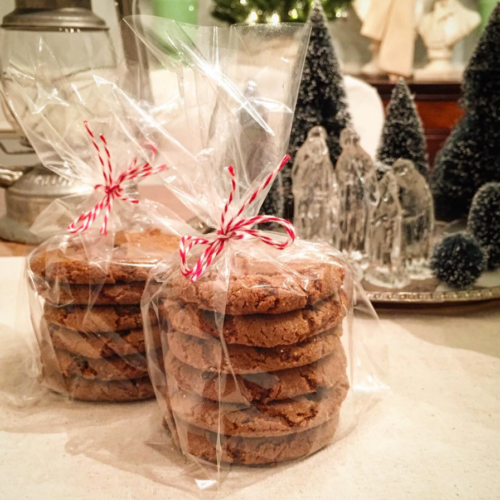 Ingredients
3/4 cup vegetable shortening
1 cup sugar + extra for coating
1 egg
1/4 cup molasses
1 teaspoon vanilla
2 cups of flour
1 Tablespoon ground ginger
2 teaspoons baking soda
1 teaspoon cinnamon
1/2 teaspoon salt
Instructions
Preheat oven to 350 degrees.
In a stand mixer, cream the shortening and sugar together until light and fluffy.
Add the egg, molasses and vanilla. Mix well, scraping down the sides of the bowl.
In a separate bowl, sift the flour, ginger, baking soda, cinnamon, and salt together.
With the mixer on low, gradually blend the dry ingredients into the shortening-sugar mixture.
Shape the dough into 1-inch balls and roll in additional sugar to coat completely. Place 2 inches apart on a cookie sheet.
Bake at 350 degrees for 10-12 minutes or until brown. Cool on the baking sheet for 1-2 minutes and then transfer to a wire rack.
Notes
Makes about 2.5 dozen. Longer baking time yields a crisper cookie.
Adapted from Oil & Vinegar
Raising Camelot https://raisingcamelot.com/