Reading about God sending manna to the Israelites as they wandered in the wilderness makes me think of biscuits.
I know that's a bit illogical. (And probably irreverent… sorry.)
Biscuits are nothing like the description of manna in the Bible. But the Word does describe manna as a kind of staple the Israelites used in different ways for a variety of dishes. And that, to me, says biscuits.
Biscuits are so darn adaptable. (And delicious, by the way.)
Biscuits with sausage and gravy are an almost weekly dinner at our house. Probably because they are the only main course (besides hot dogs and frozen chicken strips) that my boys actually celebrate when announced. And as a mom of picky eaters, that, my friends, is reason enough to make biscuits often.
I also love biscuits as the top crust on chicken pot pie. Or — properly sweetened — as shortcakes, with vanilla ice cream and macerated strawberries.
[Wipes mouth. Hurry, Springtime…]
Biscuits are married to so many entrées, they should be jailed for bigamy. Fried chicken… and biscuits. Glazed Ham… and biscuits. Chicken Noodle Soup… and biscuits. Lasagna… and biscuits.
Okay, maybe that's a little far. (But I'd still eat the biscuits.)
If you grew up eating canned or baking-mix biscuits like I did — or worse, no biscuits at all because you're a Yankee — my condolences. But you don't need to suffer anymore. There is help.
Hasten to the nearest grocery store and buy appropriate quantities of butter, buttermilk, and White Lily Self-Rising Flour. Bake yourself (and anyone you really, really love) a batch of soft, fluffy, melt-in-your-mouth-straight-to-your-hips, good ol' fashioned Southern Buttermilk Biscuits.
While there are plenty of modifications you can make to this recipe — such as using a pastry blender instead of a food processor — White Lily Self-Rising Flour is an absolute must. Substitute with any other brand of self-rising flour (or ordinary flour plus leavening) at your peril.
If you don't believe me, read Cooking on the Side's White Lily vs. store-brand flour bakeoff and judge the results for yourself.
White Lily Self-Rising can be tricky to find. I have yet to find it anywhere in Tulsa, and — even though White Lily's own website says they have products available in Arkansas — I couldn't find it in the Northwest Arkansas area either. Luckily, you can order it online. I usually order a pack of twelve 2-lb. bags from Amazon for about $25. Yes, it's a lot of flour. But lots of flour means lots of biscuits. Everybody wins.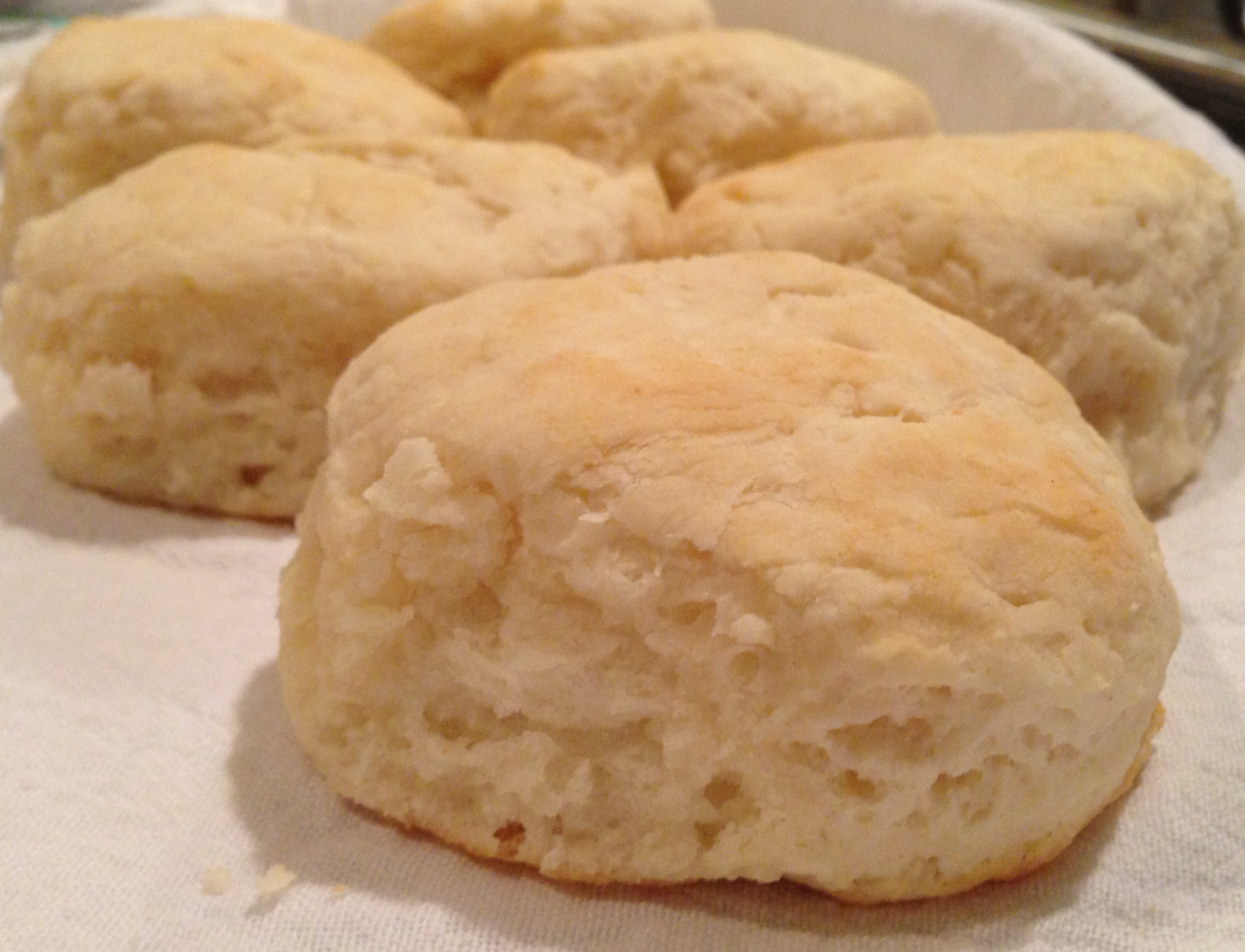 Southern Buttermilk Biscuits
2015-12-29 23:36:10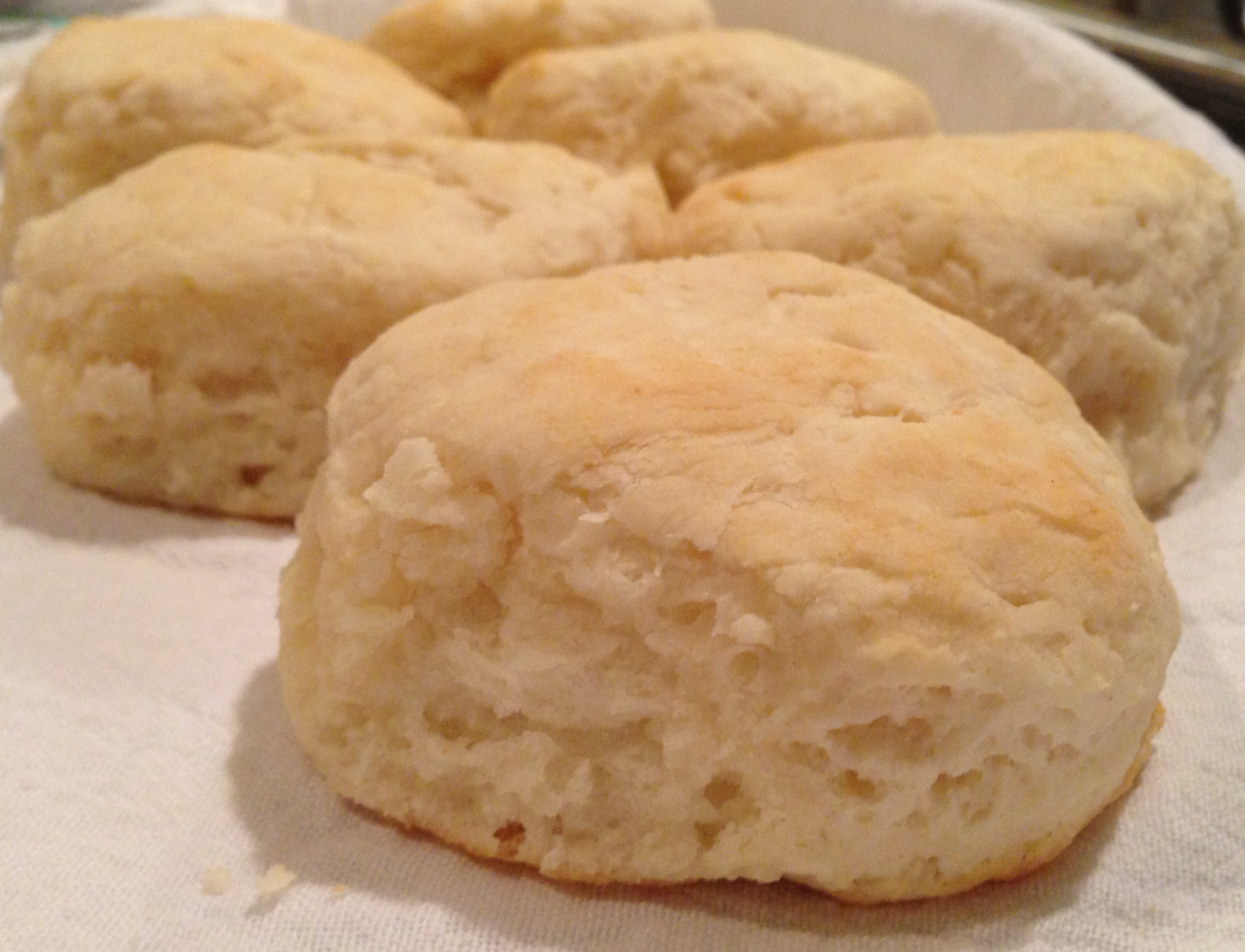 Ingredients
5 cups White Lily SELF-RISING flour
1 tsp salt
1 cup unsalted butter, very cold
2 1/2 cups buttermilk
Instructions
Preheat oven to 450 degrees.
Combine self-rising flour and salt in a large bowl and stir.
Add about 2/3 of the flour mixture to a food processor fitted with the blade attachment. (If you have a large food processor, you may be able to fit all of the flour — in which case, go right ahead!)
Cut butter into chunks and add them to the food processor.
Pulse the butter and flour until it resembles coarse meal.
Return the flour-butter mixture to the bowl and stir to combine with any reserved flour.
Create a well in the dry ingredients and pour in buttermilk. Stir just until the loose flour is incorporated into the dough. DO NOT OVERMIX. Turn the dough out onto a liberally-floured work surface (I use an extra large silpat to make clean-up easier).
With a LIGHT HAND, knead the dough by pressing it somewhat flat (roughly 2-4" thick) and then folding it over on itself. Repeat the folding process 8-12 times, adding sprinkles of additional flour, if needed, to keep it from sticking.
Pat out the dough to about 1" thick. (I do not recommend using a rolling pin; hands work best, but move quickly so the heat from your hands doesn't over-warm the dough.)
Starting from the center of the dough, cut the biscuits into the desired shape and place them on a baking sheet. (For softer edges and a better rise, place biscuits right next to each other. If you prefer crisper edges, leave space around each biscuit.)
Bake at 450 degrees for 10-12 minutes, or until golden.
To Freeze Biscuits
Prepare biscuits and cut out as normal. Place unbaked biscuits on a baking sheet and flash freeze. Store in plastic freezer bags until needed.
Place frozen biscuit rounds on a baking sheet and bake at 425 degrees for 20 minutes.
Notes
White Lily Self-Rising Flour is an absolute must. Just my humble, unpaid, biscuit-lovin' opinion.
A Few More Biscuit Tips
The folding process is necessary to build beautiful, flaky layers into your biscuits and aid the rise. Just make sure to work gently, with a light hand, or your biscuits' texture will be too tough.
Don't twist your biscuit cutter; push it straight down. This twisting action seals the edges of the dough and reduces the rise.
Instead of cutting biscuits from an outside edge moving in, start from the center of the dough and move outward. You will yield more biscuits on the first cut and thus have less dough to re-roll!
Raising Camelot https://raisingcamelot.com/
See?
It could not be easier, friends. Now put down that can of biscuits and have a little manna from Down South. Then join me in giving thanks for the triune blessings of butter, buttermilk and soft-wheat flour.
Benediction… and biscuits.