D
ead tired, that is.
Because I'm sure I will be after I make my way through (part of) this building.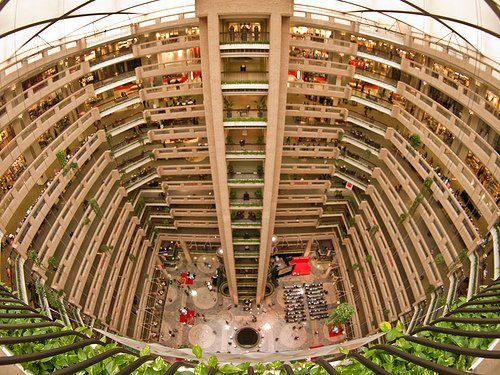 This is the World Trade Center (WTC) building at Dallas Market Center. Fifteen floors of, well, everything. All wholesale goods, from all over the world, for all kinds of stores.
I get vertigo just looking at this picture. And there are three more buildings besides this one.
More about me: I grew up in a smallish town. Within a driveable radius, there was one "cool" mall, one decidedly uncool mall and a few standalone stores. There was no Target, no GAP, and no one had heard of the internet. It was entirely possible to view and consider every single option for, let's say, a pair of ladies' shoes available in the vicinity. In other words, you could exhaust every possibility before making a decision.
Dallas Market is the antithesis of that concept. It's just not possible to see it all.
I only wish I'd known that the first time I went. That was two years ago. I'm older, wiser and significantly pregnant-er now. I'm aiming to take manageable bites out of Market this time. It's no small feat for a pregnant woman to walk waddle through 5,000,000 square feet. So I won't.
I'm planning my attack by floor. I'll be visiting some of my current vendors to see what special deals they might be offering and scouting out new vendors or ones I remember from my last market trip.
I've penciled in WTC for Floors 2, 3, 5, 6, 8, 9 and 13. There are two floors of the Trade Market building that also made the list. I'm guessing that puts me somewhere in the neighborhood of 2.5 million square feet. I may spare a waddle for some of the other showrooms, but that's a little doubtful. Because after I make my way through wholesale Xanadu, I have a couple of retail stops to visit.
First of all, Cost Plus World Market. Or is it Market World Plus Cost? Or World Plus Market Cost?
I can never get it right. Maybe because we don't have one here.
Anyway, ever since Joni Webb highlighted Market Plus Cost World in her several posts on Kooboo wicker chairs, I've been in all a-dither to visit and see them for myself, even if I don't buy a thing. Any store that snakes Pottery Barn by offering something just as nice for less is a must-see destination on my Reality Bus Tour.
And finally, I'm making time to stop into this cute little Swedish boutique — maybe you've heard of it — called IKEA.
All in all, if I make it home without needing permanent bedrest — or a second mortgage on my home — it will be rather an accomplishment, don't you think?
Considering the ambitious nature of our shopping expeditions, I haven't planned any sightseeing. My only other must-do in Dallas is to eat at Babe's Chicken Dinner House. For the whole weekend, really.
I crave it. It's a sickness. Like Homer Simpson and donuts.
But I can't eat there for six meals in a row. That would be inconsiderate to the needs of my traveling companion. And my arteries.
So where else do we eat? Thoughts? Recommendations? Warnings of imminent diabetic shock? Please share.