J
ust in time for today's Game Day festivities, I've selected the unlucky recipient of
my new college football allegiance
.
It's taken some very deliberate consideration and the swallowing of certain deep-seated prejudices, no doubt, but the determination to spur on my Razorbacks to a long-awaited championship title is worth no end of personal mortification.
On that note, the runner-up.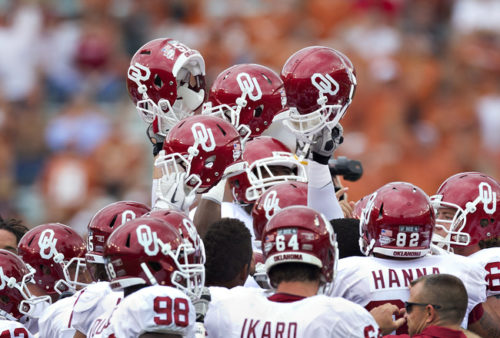 The obvious choice seemed to be the University of Oklahoma. Their status as a football powerhouse aside, motivation to target the Sooners with my unfortunate loyalties was amplified by the draw of camaraderie with their massive fan machine. Many of my friends are rabid OU fans, presenting a vista of watch parties and maybe even an actual game. Can you imagine sitting in the company of 82,000 Sooner fans, sabotaging the game from within their midst just by sitting in the stands?
But I could never get away with it.
Even if my friends conveniently forgot where I went to school, I've already exposed my true motives. And I don't have money to replace slashed tires, repair broken windows or dispose of dead animals nailed to my front door.
No, no. OU is safe from me. (Unless of course they face off with Arkansas, in which case I'll be hanging from the rafters, singing "Boomer Sooner" at the top of my lungs.)
I'd rather turn my attention to the main obstacle to Arkansas's championship prospects — and my new college football allegiance —
The University of Alabama Crimson Tide. (Sorry, Katherine.)
Odds makers are favoring the Crimson Tide to go all the way. But the first hurdle to clear is the conference title: in Alabama's case, the SEC.
To which conference does Arkansas belong? The SEC, you say? Hmmmm. My motives suddenly become clear.
Having taken a crash course in Alabama fandom, I'm waiting only for today's game to put my theory to the test. If I'm right, there's no telling to what depths the Crimson Tide may sink this year.
To which I can only say: "Roll, Tide, Roll."