In order for me to be considered a "foodie," the world would probably have to experience some kind of major food-oriented cataclysm. Maybe something on par with that stupid Stallone film in which Taco Bell is the only restaurant to "survive the franchise wars." Whatever that means.
Anyway, until gastronomic ecstasy descends to a cuisine with "gordita" in the name, I'm perfectly comfortable with being myself in the kitchen.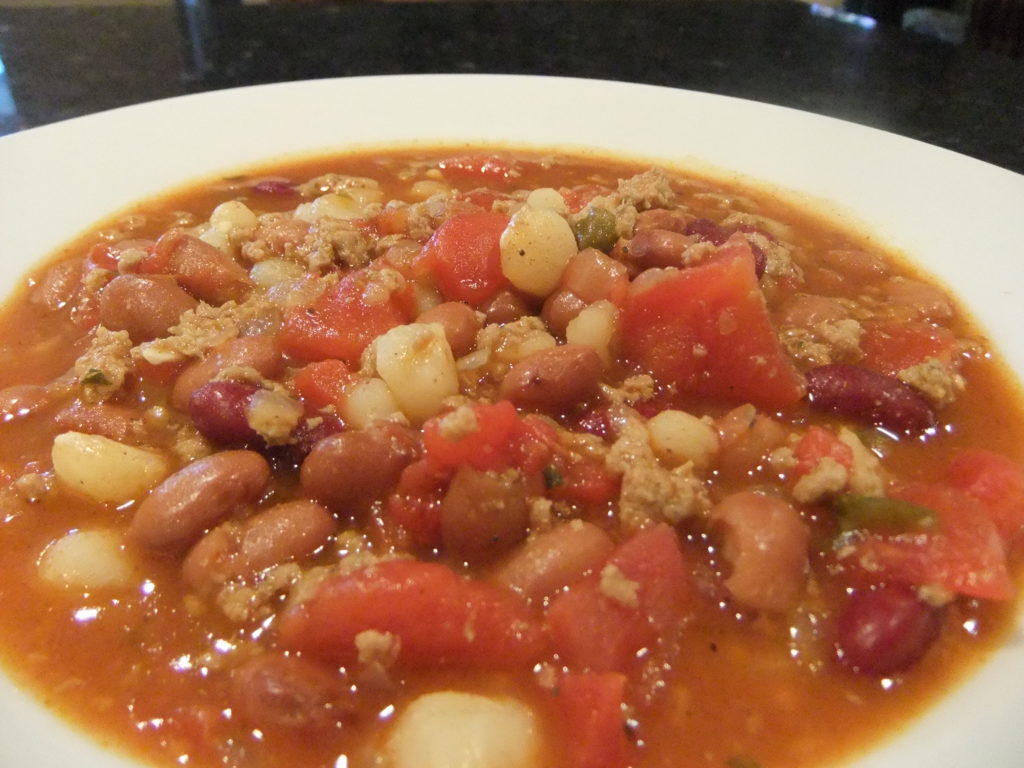 This recipe is very much "me." For one, it's probably one of the rare recipes I would feel comfortable actually taking credit for, because it's the result of 100% improvisation and not a riff on someone else's version. (I'm not saying no one on earth has ever created Taco Soup before, but any similarities between actual recipes, living or dead, is entirely coincidental.) Secondly, it's extremely easy to make, the main technical prerequisite being the ability to turn your can opener — which has "me" written all over it.
It's also a very forgiving recipe — which is where our similarities end. Ah well. You can't have everything.
I wish I could say I have nice, step-by-step photos to share, but that would be a lie. I'm not Pioneer Woman and also I'm a lousy photographer and also I'm lazy and also this recipe is so stinkin' easy that people who need a photo tutorial to make it probably shouldn't be using knives or major appliances unsupervised anyway.
I keed, I keed.
So if you can't figure it out, just leave a comment. Or email me. I'll coach you through the hard parts.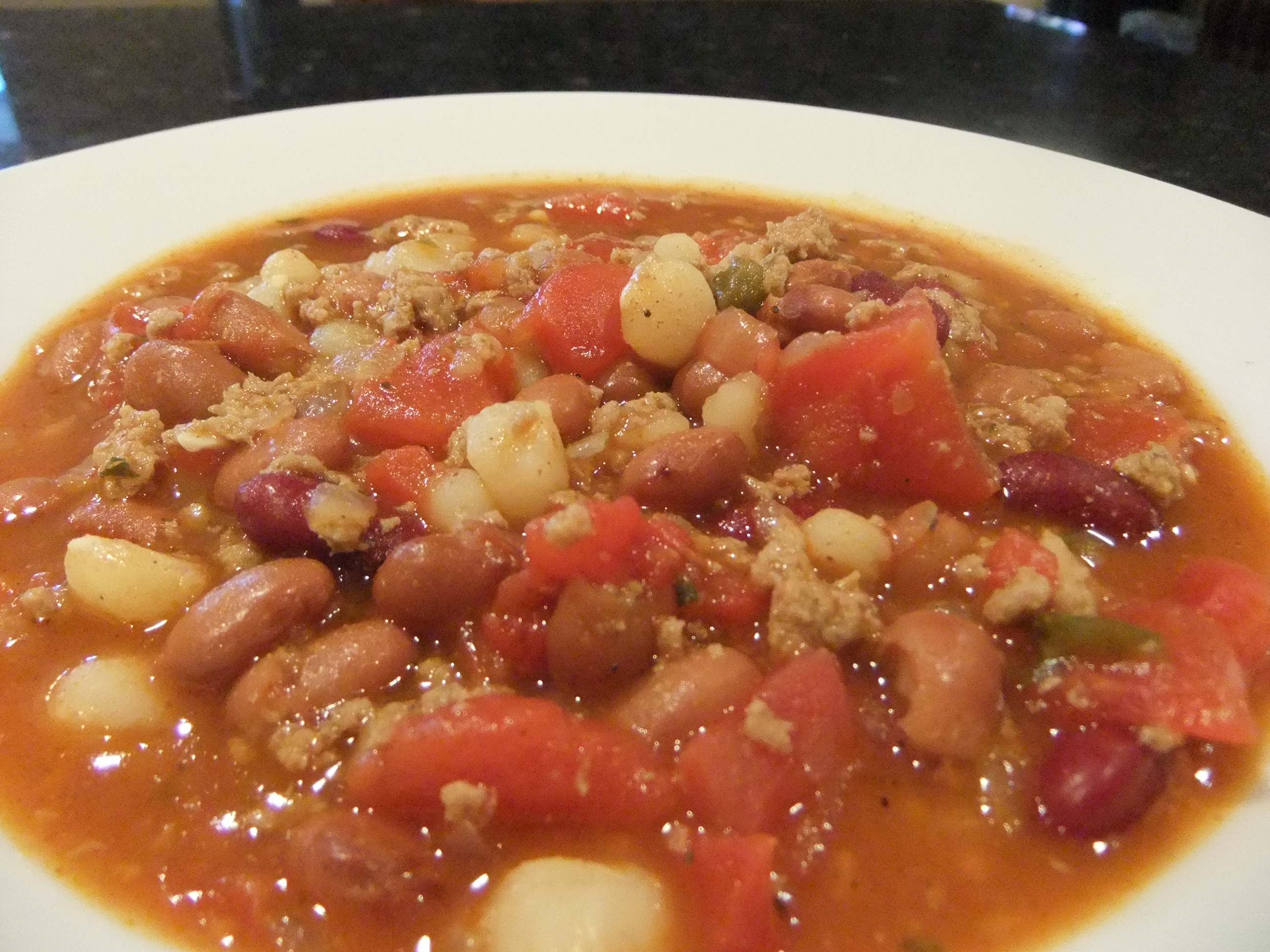 Ten Can Taco Soup
2015-12-29 23:09:43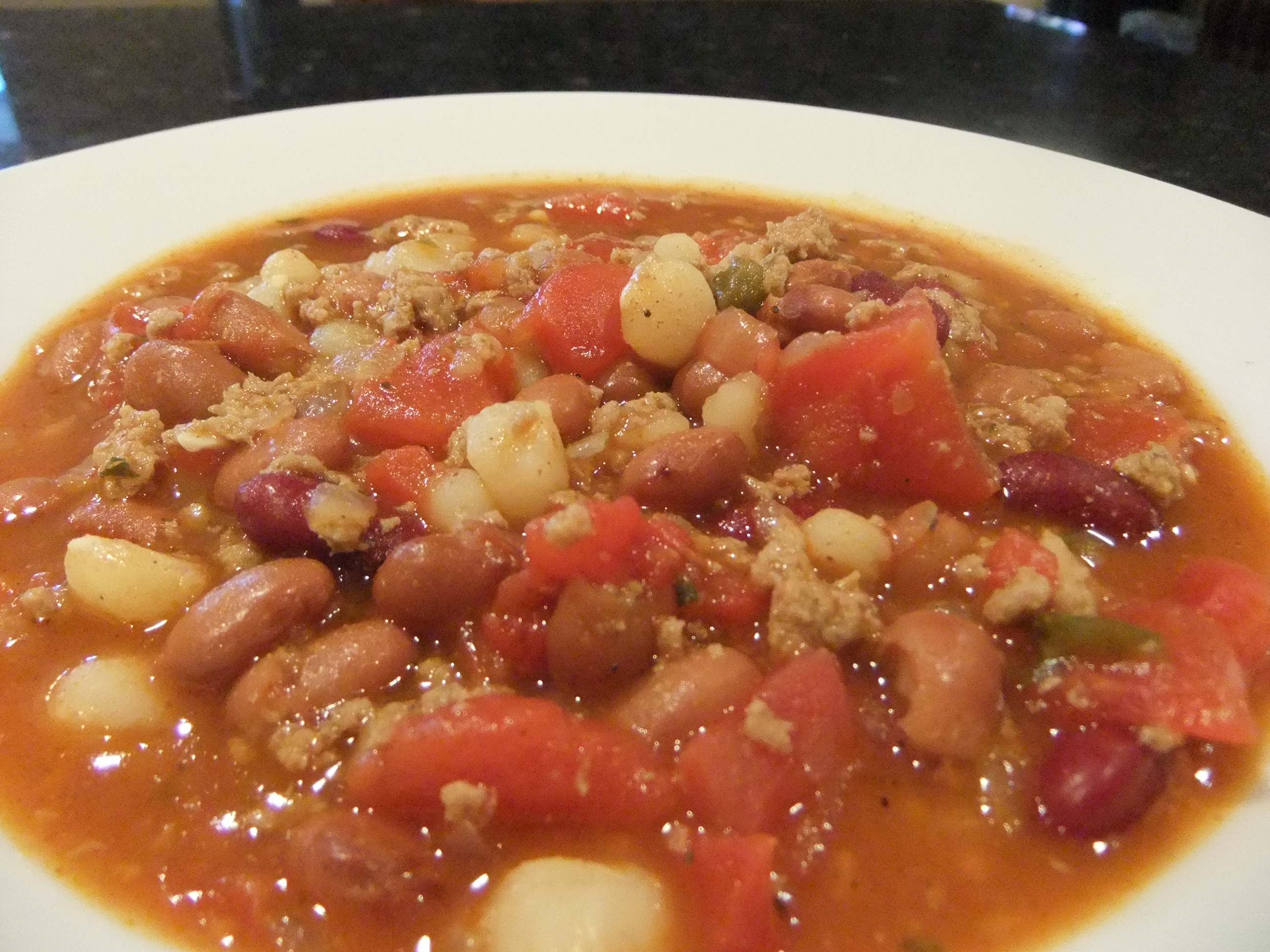 Serves 12
This is a fast, easy and forgiving recipe for Taco Soup using ground turkey and pantry staples. Cooks up in 30 minutes or less. Freezes beautifully.
Ingredients
1.25 lbs ground turkey
1 small yellow onion, diced
1 packet taco seasoning mix
1 packet ranch dressing mix
1 can (10 oz.) Rotel
3 cans (15 oz.) stewed tomatoes with green pepper & onion
2 cans (15 oz.) white hominy, drained
1 can (15 oz.) black beans, drained
1 can (15 oz.) kidney beans
2 cans (15 oz.) ranch beans
Instructions
In a Dutch oven, begin to brown the ground turkey over medium heat. While turkey is still pink, add diced onion and toss until the turkey is fully cooked and no longer pink. Drain any excess fat and discard.
Sprinkle the ranch dressing mix over the turkey/onion mixture and toss over low heat to coat. Repeat with the taco seasoning.
Stir in remaining ingredients and cover. Simmer on low for 20 minutes or more, stirring occasionally.
Sprinkle with a little sharp cheddar or cotija cheese and serve with tortilla chips, saltines, corn chips, or (my personal favorite) cornbread.
Raising Camelot https://raisingcamelot.com/
By the way, this soup freezes beautifully. Just seal the cooled soup in a ziploc bag and toss in the freezer. Though I would recommend not tossing it onto a wire shelf within your freezer or you may find the task of defrosting a bit more entertaining. Just a suggestion.