I
really don't spend my life in thrift stores. Honest. It just seems that way.
I usually only make it to a thrift store once a week, and then it's usually because the long, hot, miserable, humid, turgid, ferocious, scorching, summer weather has inflicted cabin fever on my boys, a dose so severe they beg me to take them somewhere. Anywhere.
I'm just trying to please my kids really. Taking one for the team is my nature.
(On that note, it has been a nice change of pace to see my boys entering a thrift store willingly and without tranquilizers. They've been — knock on wood — astonishingly well-behaved. As long as I give them something to hold and play with while they're in the store, they're usually quite pleasant.)
Anyway, back in July, Holly posted a query regarding her kitchen area: to eat in or not? As usual, she included some great photos for inspiration, including this one: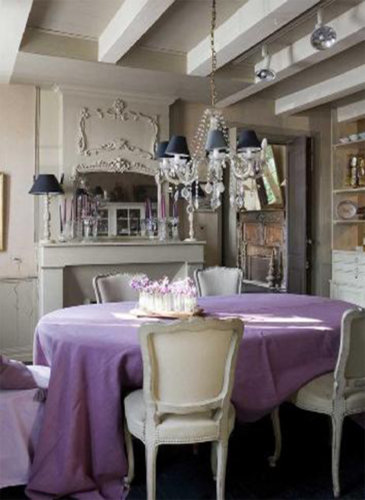 Normally, I'd call this too French Country for my taste, but I really liked the chairs. I'm into nailhead trim these days.
Cue the "B" Story: for the previous few weeks, I'd been watching a dining table and chairs set at Salvation Army. The original price of $189.99 had come and gone and still the set remained. When it hit 50% off, I was tempted. But the time just wasn't right.
But somehow seeing the above photo got my wheels turning, and on my next trip to SA I managed to put two and two together. For a miracle, the dining set was still there — and was now 70% off.
So here it is. And only to you, blog friends, can I safely confide that she's destined for a coat of paint. White paint, perhaps gray.
The puzzlement is the chairs. The seats obviously need doing.
The seats are a bit too large for their frames and it looks slightly awkward, so I'll probably cut them down a little. I thought I might recover the seats in pale blue linen (or whatever cheap facsimile I can come up with), finished with extra large nailhead trim.
The inspiration photo is coaxing me to upholster the backs, too, but I'm not sure about how to contend with the figure-eight detailing.
I like it but it's not exceptional. Do I cover it on one side? Both sides? Recover only the seats and let the eights speak for themselves? Rip out the eights completely?
For the time being, I have white canvas slipcovers (meant for the Ikea Henriksdal chair, but they fit so who cares?) to disguise the slub ugly fabric. Hopefully that gives me time to decide about the eights, decide about upholstering the backs, find the right upholstery fabric, paint the chairs, paint the table, learn to do upholstery, finish our bathroom remodel, have another baby or two, raise my children to adulthood, write my novel, dye my hair, learn to play the guitar and become Bunco champion before I have to actually recover the chairs.
No rush, right?
[hr]
Linking up to: