DISCLAIMER: I am not a "chef." While culinary precision and sophistication are qualities I admire in others, these are not among my gifts. I'm lazy.
But I'm a huge fan of comfort food. And by "huge," I mean… never mind.
Where my culinary skills tend to shine is in the arena of dessert. To me, dessert is a culinary act of redemption — a chance to send your guests into a state of euphoria that will sponge from their minds the memory of dry chicken and bland veggies.
This recipe is an adaption of "Chocolate Chip Brownie Pillows" from Southern Living Annual Recipes 2009 — tweaked because I like much more brownie than their recipe calls for. And it's all about me and my needs, of course.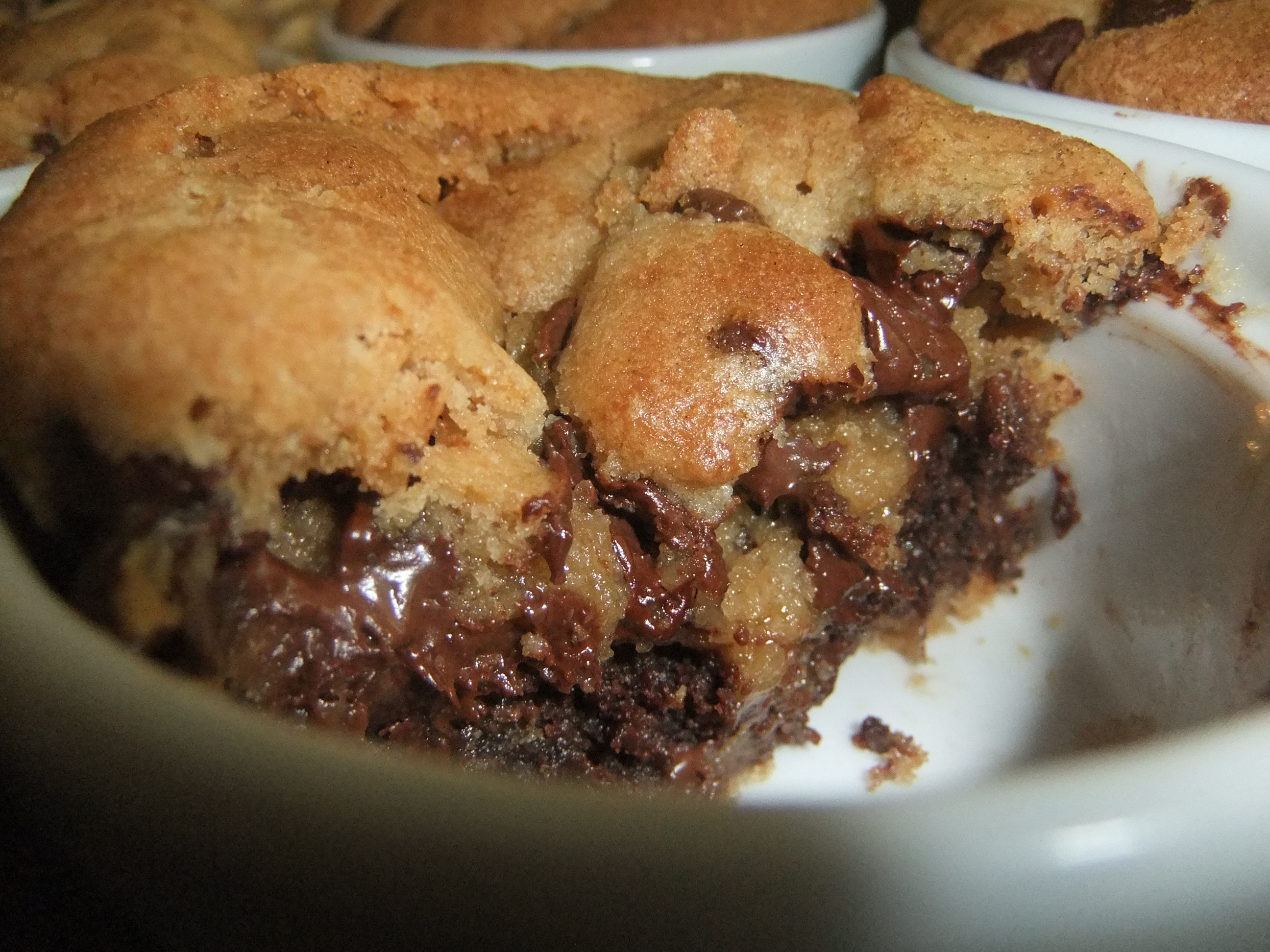 Chocolate Chip Brownie Pillows
2015-12-29 23:22:09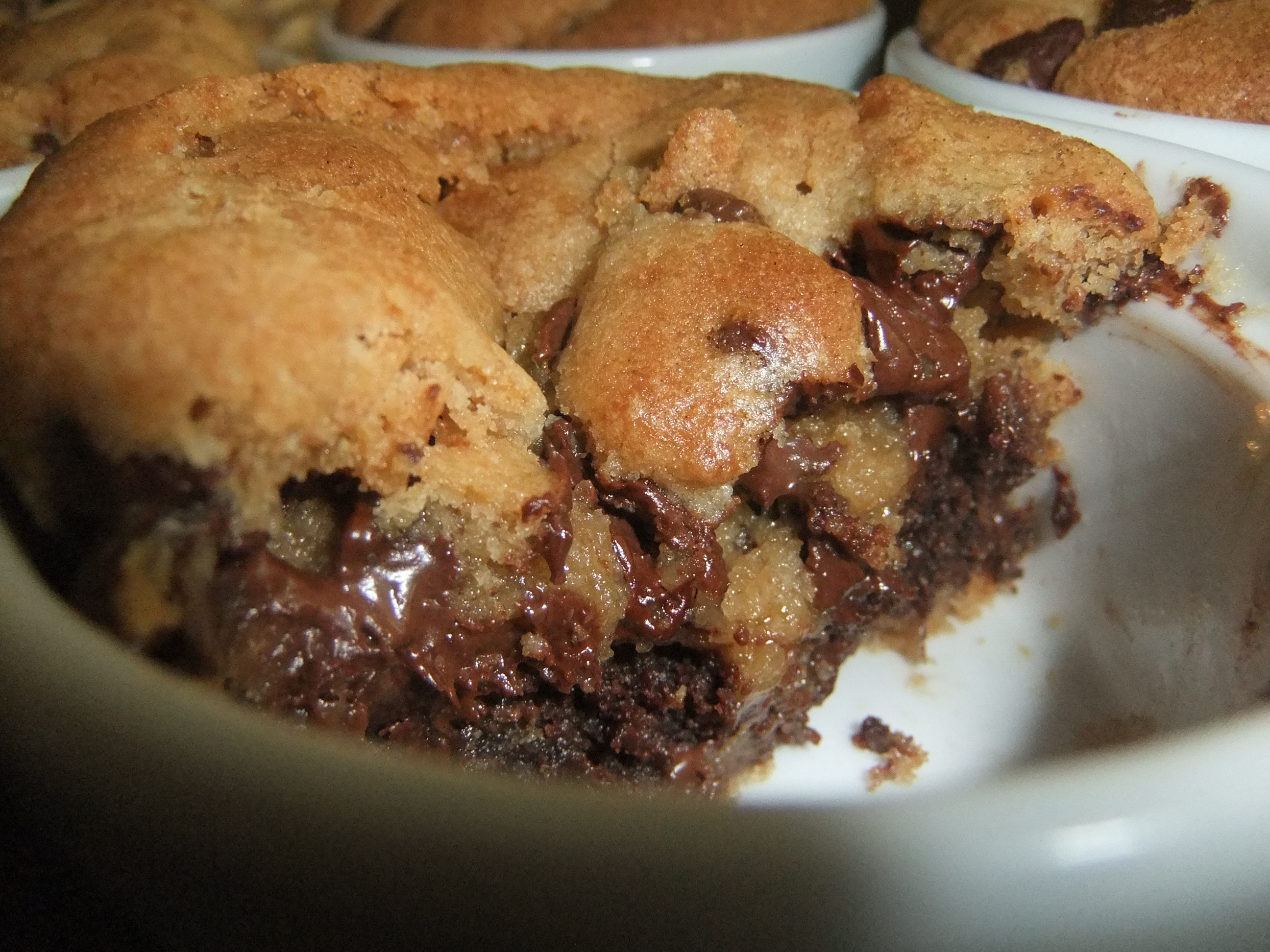 Serves 12
Ingredients
1 package Ghirardelli Double Chocolate Brownie Mix
1/2 cup butter, softened
1/2 cup shortening
1 1/2 cups brown sugar
3 eggs
1 tablespoon vanilla
2 1/2 cups flour
2 teaspoons baking powder
1/2 teaspoon baking soda
1/2 teaspoon salt
12 ozs. semisweet chocolate chips
Instructions
Bake brownies according to package directions. Cool completely. No cheating on this one.
Cream together butter, shortening and brown sugar. Add eggs one at a time, beating after eat addition. Stir in vanilla.
Sift together flour, baking powder, baking soda and salt. Gradually add dry ingredients into creamed mixture and stir until blended.
Stir in chocolate morsels. Cover and chill dough 2 hours.
Cut the brownies into narrow slices, 3/4″ wide or so. Lightly grease 12-14 small ramekins or custard dishes (I use the 3" size).
Put one large spoonful of chilled cookie dough in each ramekin and spread out until you have a thin layer covering the bottom of the dish.
Top the cookie dough with a layer of sliced brownie — I turn the narrow slices on their side for the best coverage — covering as much of the cookie dough as possible. (Feel free to break slices apart or fill gaps with crumbs; no one will ever know. Unless they read this blog.)
Take another large spoonful of cookie dough into your hands and flatten it into a rough circle. (It helps if you dampen your hands.) Place the circle of dough over the top of the brownie and spread out to cover the brownie. Make sure the brownie is completely "sealed" by the cookie dough so it doesn't dry out or burn while baking.
Cover the ramekins with plastic wrap and chill for about 20 minutes. (Or, if you'd like to save some for another day, wrap each ramekin in plastic wrap and freeze. You can thaw in the fridge or see below for frozen baking directions.)
Bake at 350 degrees for 20 to 22 minutes or until the top is golden brown. If the top is still doughy, lay a small square of foil over the top and bake for another 3-5 minutes.
Serve warm, topped with a scoop of vanilla ice cream.
To Bake a Frozen Brownie Pillow
Unwrap the plastic from your frozen brownie pillow and place it on a cookie sheet.
Place the frozen brownie pillow into a COLD oven. (Do not preheat your oven, or the sudden change in temperature will cause the ramekin to crack.)
Set the oven to 325 degrees and bake for 35-45 minutes, or until the top is firm and golden brown.
Notes
If you don't own any ramekins or other small oven-safe dishes, you can use muffin tins. Just note that the quantity and proportions will vary from those described above. You should also understand that the use of individual serving dishes such as ramekins is an effective deterrent against Chocolate Chip Brownie Pillow Hoarding (CCBPH), a clinical disorder characterized by the sufferer stealing an entire muffin tin of CCBP, locking him or herself in a closet or vehicle and consuming all 12 servings in one sitting. An outbreak of CCBPH is usually followed by an acute case of Sudden Onset Chocolate Overload. Symptoms include labored-breathing, abdominal distention, rolling eyes and moaning, quickly followed by excessive milk consumption and a four-hour nap.
Adapted from Southern Living Annual Recipes 2009
Adapted from Southern Living Annual Recipes 2009
Raising Camelot https://raisingcamelot.com/
Happy chocoverload, friends!