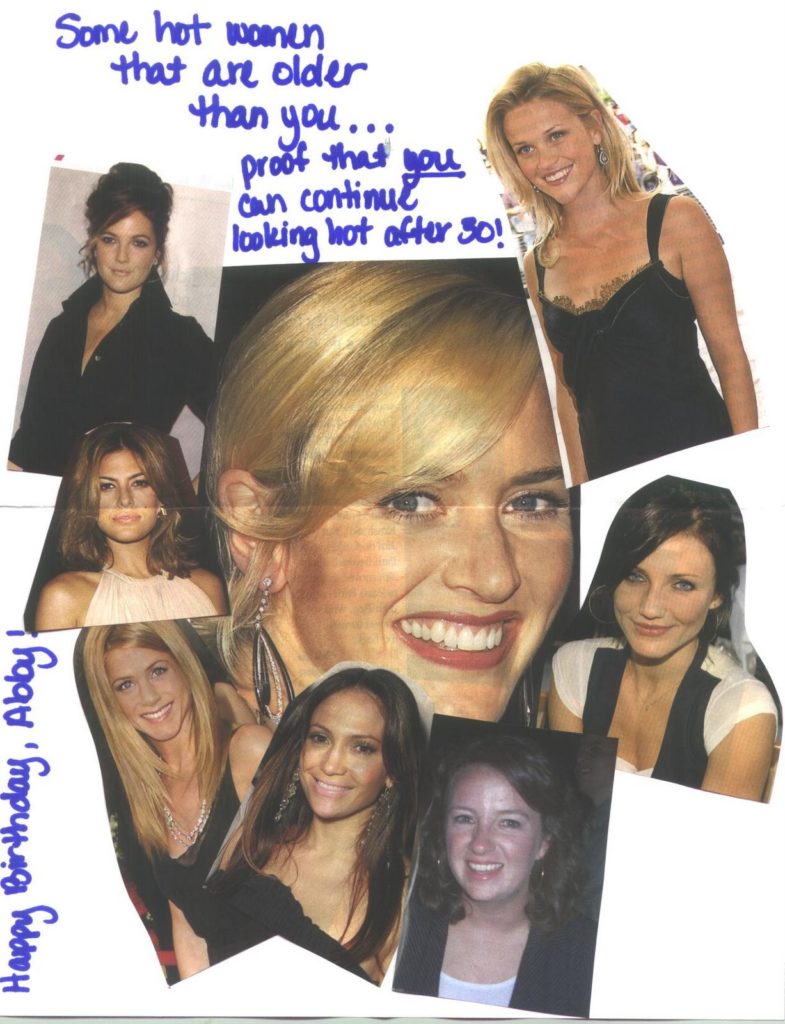 Y
es, it's finally upon me.
Age 30.
I'm trying to handle this with grace, but to be honest, it's a mental hurdle like I hadn't anticipated.
Turning thirty has wreaked the same havoc in my mind as the Mini Van Block (that childish resistance to buying an ever-so-practical minivan because it might make me look older than I want to appear).
So I'm struggling a bit.
My friend Erin was kind enough to send me this collage, citing women over 30 who are still hot. Thank you, dear friend! I needed it.
But pondering the likes of Kate Winslet, Eva Mendes and Reese Witherspoon got me thinking along other lines. Namely: Are there women under 30 who look worse that I do?
Thankfully, yes.
Seeing as I'm much cattier than Erin — and it is my birthday — I thought I'd indulge in the time-honored pastime of insulting other people to make myself feel better. I lettered in this sport, so rest easy, you're with a professional.
[Keep in mind, I didn't take the easy route and survey your average bingo parlor. I didn't even troll the waters of the local university-level Women's Studies department. These are "famous" women who've somehow or other made a name for themselves.]
First up in the Women Younger And Uglier Than Me category:
Chelsea Clinton
This is a product of simple math.
habitually-dishonest and debauched politician + embittered feminist attorney/activist = homely daughter with Stanford education
Next up,
Christina Ricci
It's all a matter of taste, but I don't find her attractive. Perhaps it's her adherence to roles featuring some type of decapitation, ghosting or mayhem. Whatever. Not cute.
Britney Spears
Leaving Britney's Mother Of The Year campaign aside, a couple of years ago, my claim of superior attractiveness would have been laughed off the net.
These days, however, I think I can make a good case for it. Four words, Brit: Lay Off The Sauce.

And lastly, we have this little lady.
No, not Paris Hilton. Her dog, Tinkerbell.
Younger than me and uglier than me. Yes, yes, I know. Hairier than me, too, but it still counts.
In any case, for those 30 and older: Take Heart. Between dogs, drunks, psychos and the children of degenerates, there will always be people we can belittle to nurse ourselves through the rough times.
Save
Save