An illustrated guide to monogramming in those "tricky" situations.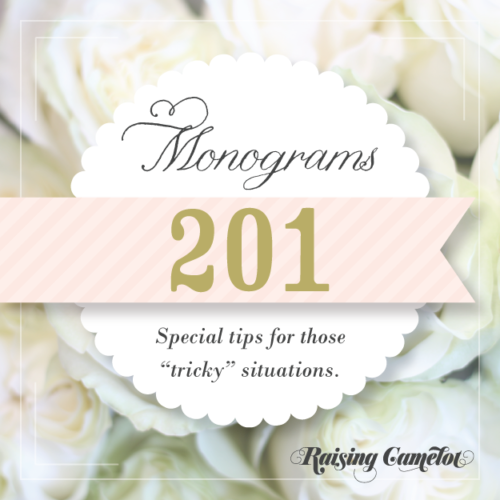 When I was still running a retail business, I received many emails asking for additional guidance in choosing a monogram, especially when the names required an "unconventional" approach. In response to these inquiries, Monograms 201 expands on my previous post to discuss monogram layouts that are atypical or, for one reason or another, defy the usual "rules" of arrangement .
Remember, however, that monogramming is more art than science. Monogramming "rules" are pretty fluid, not the least because styles and personal tastes vary so widely. When in doubt about the "proper" layout for a monogram, I recommend simplicity over complexity.
Below are a number of "tricky" situations you might encounter in choosing the most appropriate monogram layout, with examples.
---
HYPHENATED OR DOUBLE LAST NAMES
When a single adult or a couple prefer to use double last names, or a hyphenated last name, In this case, the monogram for a couple might appear like this:
For a single person, the layout would be similar: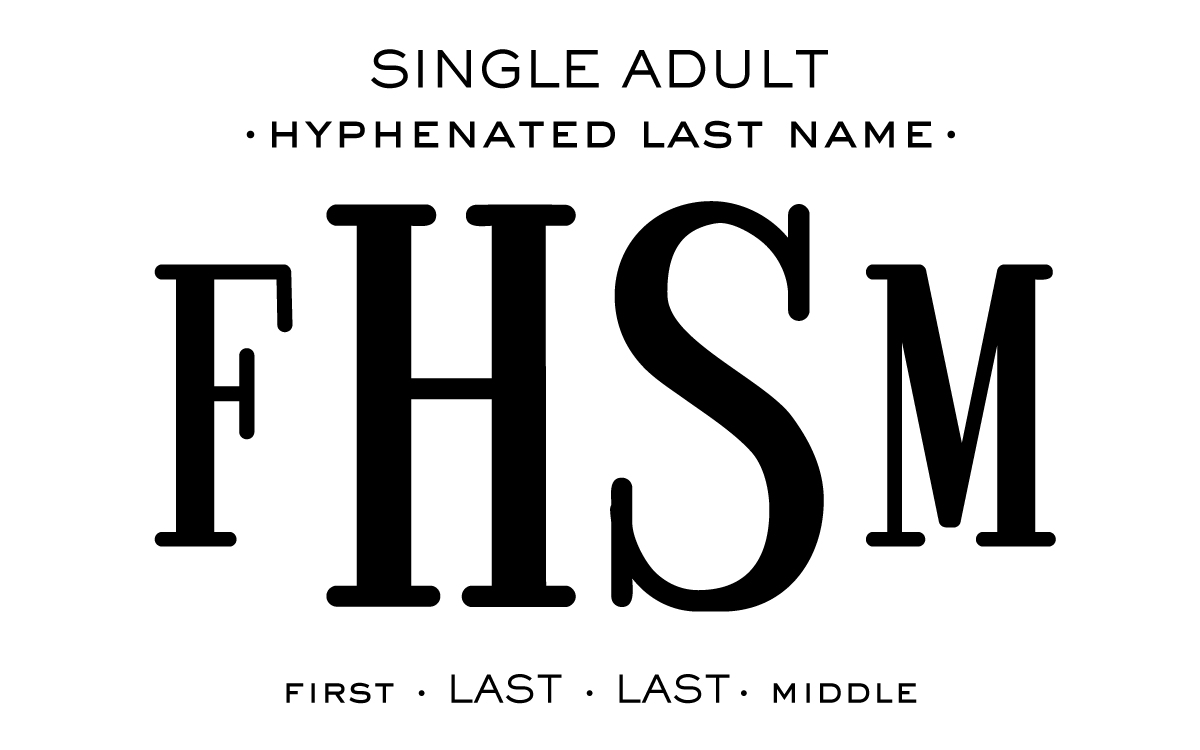 Unfortunately, a four-letter monogram is not always the most elegant approach and the font options are undoubtedly more limited. Instead, you may wish to use a two-letter monogram to represent the last names only. For example, the monogram for Sarah and Joe Harkin-Harris could be shown like this: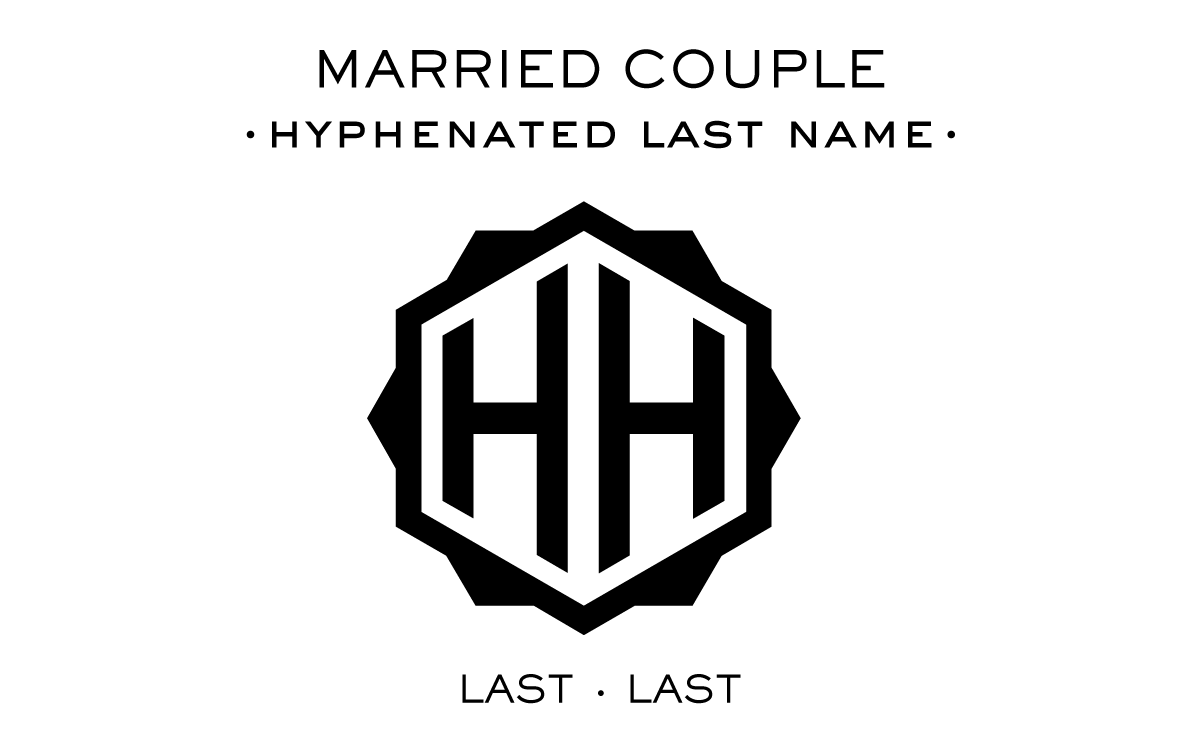 Whichever layout you choose, the monogram should not include the hyphen itself.
DOUBLE FIRST OR MIDDLE NAMES
For some adults, the monogramming challenge is incorporating double given names or multiple middle names. Again, although the font choices will be more limited, there are ways to make it work.
Using a uniform size of initial is often the best solution. The monogram for Mary Helen Edith Dwyer might appear like this: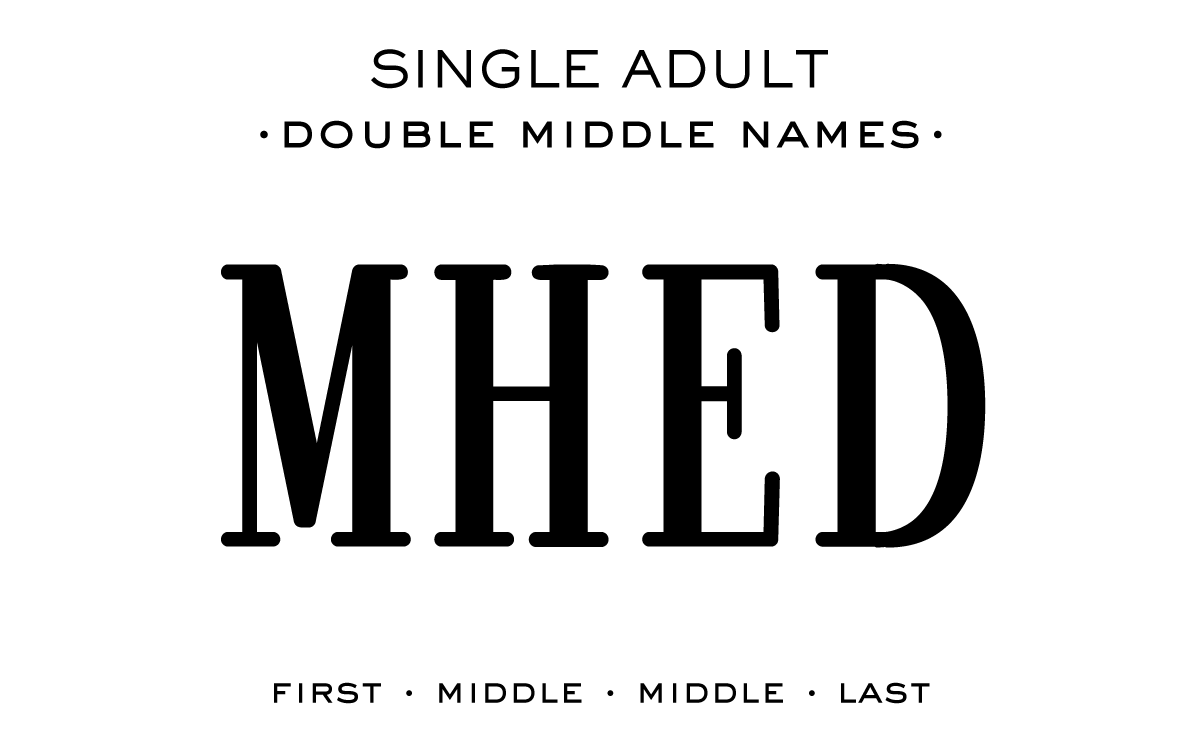 This arrangement can also work for an adult with a double last name.
PREFIXED LAST NAMES
Some last names include a prefix. These little snippets of language — which might include: van, von, di, du, de, della, O', Mc, Mac, Saint, los, la, and others — seem to confuse a lot of people when it comes to monograms.
Generally speaking, you want to treat the first letter of the prefix as the first letter of the last name and choose your monogram accordingly. For example, "Charles Randall O'Hara" would be monogrammed like this: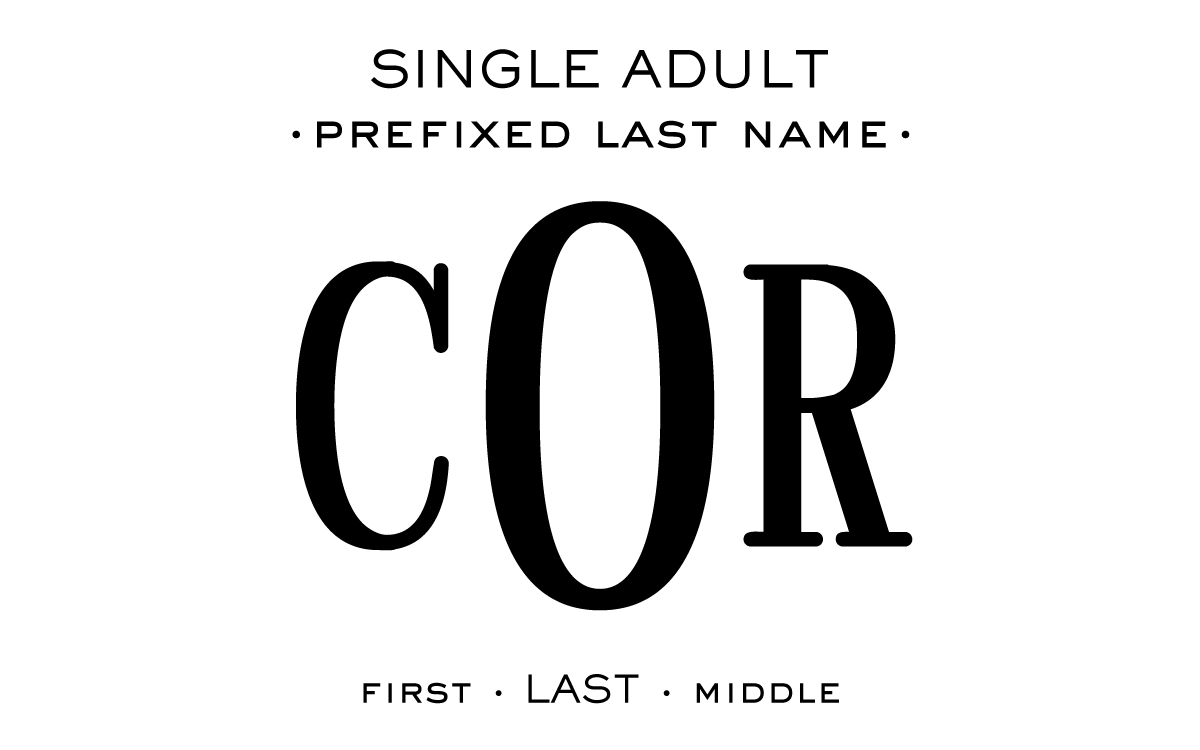 As with hyphenated last names, you do not include punctuation; leave off any apostrophe.
The prefix should be treated as the beginning of the last name, whether it is separated by a space or adjoined to the rest of the last name. The monogram for "Grace Tabitha Van De Groot" would appear as follows: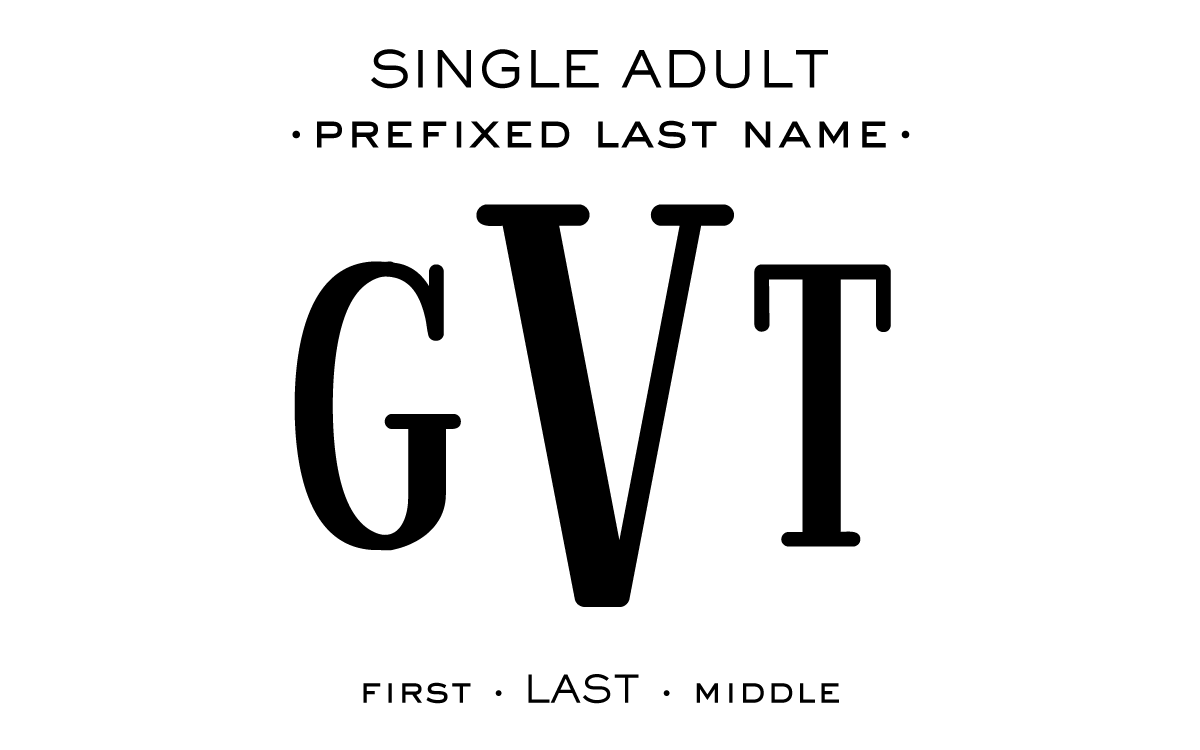 NAMES WITH A GENERATIONAL SUFFIX
It is not customary to include generational suffix such as "Jr." or "III" in a monogram, and most standard monogram styles will not do so easily.
Nevertheless, some people may prefer to the suffix be included — especially in families with a long history of using a particular name. In which case: Chacun à son goût.
If the suffix must be included, it is probably best to contract with a custom monogram designer to create a unique monogram that incorporates it in a pleasing way.
USE OF TITLES OR PROFESSIONAL SUFFIXES
Professional titles and suffixes such as "Doctor" or "MD" should not be included in a monogram. It's tacky.
Still puzzled?
At this time, I am unable to answer specific inquiries about monograms. However, I encourage you to review this page (and its companion, Monograms 101) for answers to your personalization questions. The vast majority of difficulties can be solved with the information on one or the other of these pages. Failing that, a good retailer should be able to assist you in choosing the right monogram.
For any dilemma that is not addressed in these pages, I offer this advice: Keep it simple. More initials are not always better. Don't be imprisoned by monogramming "rules" or conventions. If consideration for the recipient is your guide, you can't go wrong.
Save
Save
Save
Save
Save
Save
Save
Save
Save
Save
Save